Ableton releases Designer Drums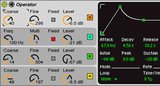 Ableton has released Designer Drums, an exclusive Live pack with brand new presets for Operator p users.
It features classic analog drums, a number of innovative percussive sounds and dedicated drum racks for instant and intuitive beat-making.
Visit Ableton for a link to download Designer Drums.