Allergic to cats but still would like to have one?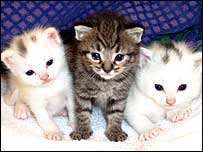 BBC news has an article on hypoallergenic cats.
The world's first specially-bred hypoallergenic cats have gone on sale in the United States.
These cats have a natural gene divergence within the cat DNA which keeps it from producing allergies coming from the glycoprotein Fel d1, contained in the cat's saliva, fur and skin.
Since only one in 50,000 cats has this divergence the price of hypoallergic cats is currently quite high ($3,950) but already there is a waiting list to get one.
I would think that if only 1 in 50,000 cats is naturally hypoallergenic they actually should be allergenic to begin with.