Antares PUNCH Evo vocal processor 59% off in 24-hour sale
Plugin Boutique has launched a sale on PUNCH Evo, a vocal impact enhancer effect plugin by Antares.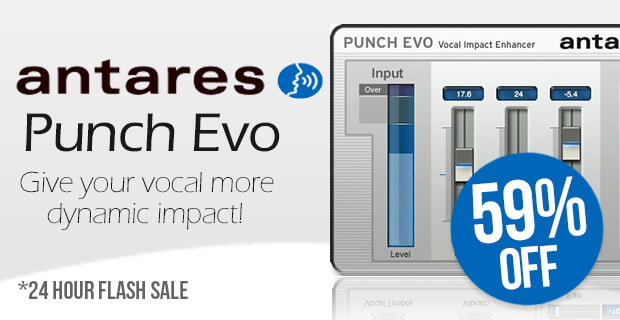 PUNCH Evo is a unique processor that, as its name implies, lets you quickly and easily give your vocal more dynamic impact, allowing it to cut through a dense mix with clarity and power.

Combining advanced dynamic processing with an incredibly easy-to-use interface, PUNCH Evo gives professional results while letting you focus on your music.

As Paul White put it in his review of the original PUNCH in Sound On Sound:

"…you can nail the level of a vocal track in a mix without being a compression wizard…If you can't get your vocal to sit in a track using this, it's probably deficient in some other way."

PUNCH Evo is a smart dynamics processor that is designed to optimize the level of a vocal track to allow it to cut through a dense mix with power and clarity. It provides a combination of compression, gain, limiting, and overload protection with a user interface designed for speed and simplicity.
The sale ends October 28th, 2016.
More information: Plugin Boutique / PUNCH Evo