Applied Acoustics Systems releases Sounds from BLKRTZ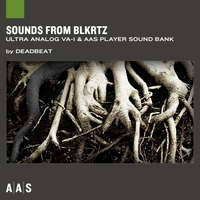 Applied Acoustics Systems has announced the release of Sounds from BLKRTZ, a dub sound bank for Ultra Analog VA-1 and AAS Player.
Inspired by his work in a wide array of genres over the last 12 years, Deadbeat's Sounds from BLKRTZ is a collection of 100 presets for Ultra Analog VA-1 which truly push the instruments to its earth shaking low and shimmering high extremes.

It will come as no surprise to those familiar to his unmistakable dubwise style that subs and bass play a central role here, but you'll also find an inspiring array of evolving chords and stabs, ambient clouds, and slowly evolving sequences.
The Sounds from BLKRTZ bank for Ultra Analog VA-1 and AAS Player is available to purchase for $39.
More information: Applied Acoustics Systems / Sounds from BLKRTZ