Audio Ease releases Cabinet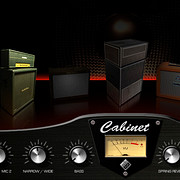 Audio Ease has released Cabinet, the essential final stage of your guitar tone.
The effects you hear in Cabinet are convolution based and rely upon actual samples made of the speaker cabinets shown, a spring reverb and a top class recording studio live room. Cabinet and the 33 cabinets in its mother plug-in Speakerphone provide the ultimate real-world sounding final stage of your guitar tone: the speaker cabinet within a good studio live space.

Plug-in your favourite pre-amped signal from a real hardware amp, or your favourite pre-amp modeling plug-in and use Cabinet to put the real world into your tracks.
Cabinet contains the three features guitarists like best in Speakerphone:
five guitar amp speaker cabinets.
a top class recording studio live room.
a classic spring reverb.
All of this is based on convolution, using impulse responses at a quality that has won Audio Ease many awards in the past.
Cabinet is available for Windows and Mac for $59 USD / 49 EUR. A fully functional 30 day demo is available for download here.
Visit Audio Ease for more information.