Audiovapor free preset packs for Absynth, energyXT, MorphoX, DUNE & Axon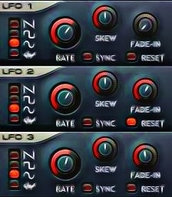 Alan Stuart has a number of free preset packs available to download from his Audiovapor website.
Audiovapor preset packs
Native Instruments Absynth 5 – 50 electro-inspired arpeggiated patches.
energyXT native sampler

Drum clips – 44 old-school electro/hip hop patches using samples recorded from Alan's hardware through a tube amplifier.
Arpeggiated synthesizer clips — 45 electronic patches and MIDI loops.
88 electronic patches using multisamples from Alan's hardware.

LinPlug MorphoX – 70 electro-inspired arpeggiated patches.
Synapse Audio DUNE – 50 electro-inspired arpeggiated patches.
Audio Damage Axon – 18 minimal house-inspired patches for the percussion synthesizer.
The Audiovapor preset packs are available as freeware. All patches are royalty-free to use in your own compositions.
More information: Audiovapor