Bootsy / Variety Of Sound updates TesslaSE, TesslaPRO, Density mkII and FerricTDS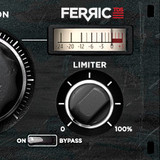 Bootsy of Variety Of Sound has announced maintenance releases for Density mkII (v2.0.2) and FerricTDS (v1.0.2), two freeware VST effect plug-ins for Windows.
Both maintenance releases are containing important stability improvements, especially for the memory issues that were causing crashes when deleting plugins in some host applications.
TesslaSE and TesslaPRO were also updated.
Additional changes TesslaSE 1.2.1
Noise model removed.
Faster loading times on systems with large amounts of system fonts.
VST vendor tag changed to 'Variety Of Sound'.
Manual updated.
Additional changes TesslaPRO 1.0.1
Samplerate compatibility issue fixed (internal filter).
VU needle renders proper on mono tracks now.
VST vendor tag changed to 'Variety Of Sound'.
The updates are available through the Variety Of Sound downloads page. The FerricTDS v1.0.2 update is available through the KVR Developer Challenge.
More information: Variety Of Sound / FerricTDS @ KVR