Build your own Apple iPhone from paper
sonicscape from Paper Art Gadgets is offering a bunch of pdfs of some cool paper models.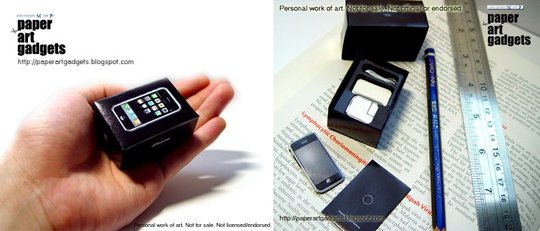 Paper Art Gadgets iPhone model
You can download the following models:
Gaming

Xbox 360 and display box
Xbox 360 HDDVD drive
Sony Playstation 3 and display box
Nintendo DS Lite
Atari 2600
Pimped Xbox 360s #1-7

Mobile

Apple iPhone
Nokia 6280

Miscellaneous

Customizable paper figurines
So if you can't afford a real iPhone, this is your chance to at least look cool with a miniature iPhone model!
Visit Paper Art Gadgets for more information.