A complete list of products reviewed on rekkerd.org is available here.
Related:
beats
,
breaks
,
Chemo
,
drumkit
,
hip hop
,
Loopmasters
,
loops
,
reviews
,
samples and sound libraries
,
vinyl
Posted in
reviews
on Mar 22, 2013 -
0 comments
London based record producer and recording artist Chemo is back with the second volume of Hip Hop Instrumentals, a collection of 10 construction kits.
Each construction kit has everything you need to build inspirational Hip Hop productions including stems of each drum part, Bass Loop, Hook and Atmosphere along with its own separate drum kit for those who want to roll their own breaks.

With tempos varying between 70-114 BPM this dynamic pack is also perfect for Chill Out, Urban, Triphop, Downtempo and all worldwide hip hop genres.
The collection offers 109 loops and 126 single shot sounds, neatly organized in construction kit folders and labeled with bpm and key info where applicable.
Loops include complete drum beats and breaks, melodic instrument loops, atmospheric background sounds, and more. The single shot sounds feature the individual drum sounds of the construction kits so you can create variations or new parts. A collection of bonus drum loops and kit samples is also included.
Additionally, 27 sampler patches for the drum kits, bonus kits and atmos are available in popular formats, including 14 kits for Native Instruments Maschine.
Here's what Chemo has to say:
"With this pack, I have made a conscious effort to concentrate on the drum kits and organic atmospheres and textures. I often find that the atmospheric sounds lying behind the main elements in a song can really give a dynamic texture upon which to base the rest of the composition. You will hear quite a variety of subtle vinyl crackle layers, ambient nature recordings, distant trains and even a sound layer recorded at a supermarket checkout"
So what do I think?
Product
: Hip Hop Instrumentals 2 by Loopmasters
Format
: 24bit WAV/REX, sampler patches
Price
: £24.95 GBP
Like
: Authentic sound, fantastic vibe, drum kit single shots
Don't like
: –
Verdict
: 9/10
Chemo lays down some amazing vibes in this second volume of Hip Hop Instrumentals. The construction kits have a mellow feel, and are incredibly musical and well thought out. The drums and melodic elements of the kits are perfectly matched.
And then you have the steam train whistle, chirping of birds, water bubbling, vinyl crackles, random background noises, etc… The atmospheric sounds Chemo speaks about really set the tone, and make the kits truly original.
All kits have a distinct flavor, and the pack as a whole offers a consistent, high quality sound. Check it out!
More information: Loopmasters / Hip Hop Instrumentals 2
Related:
ambient
,
Arte Nuovo
,
Joseph Hollo
,
patches and sound banks
,
reviews
,
soundscapes
,
u-he
Posted in
reviews
on Feb 14, 2013 -
0 comments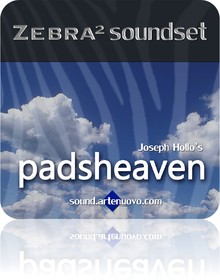 Arte Nuovo's Joseph Hollo has recently released Padsheaven, a soundset for the Zebra 2.5 software synthesizer by u-he.
An ultimate collection of useful lyrical and dramatic pads, effects and soundscapes from a multiple golden and platinum record owner composer.

You can use them in almost all styles from classical pop/rock ballads to moviescores or even in the most up to date dubstep compositions.
Padsheaven features 128 presets, including 96 pads and 32 additional keys, leads, plucked instruments, bass, and drum/percussion sounds.
The patches have descriptive titles and they are categorized for ease of use. Various parameters are assigned to velocity, aftertouch, pitchbend and modwheel, and each patch has detailed information on what is assigned and how a sound was designed or intended to be played.
The video below demonstrates some of the sounds of Padsheaven.
So what do I think?
Product
: Padsheaven by Joseph Hollo
Format
: .h2p patches for Zebra 2.5
Price
: $20 USD
Like
: Superb sound design, emotional & inspiring
Don't like
: –
Verdict
: 9/10
Zebra has a gigantic vault of free patches available to its users. Right now I count over 125 banks listed, many of which feature high quality sounds. A commercial soundset like Padsheaven really has to have to something special to offer. And it does.
Padsheaven includes some absolutely stunning pads, in a wide variety of colors. Soft and warm, ambient, glass like, strings, and lots more. Joseph displays his sound design skills by creating incredibly emotional, moving sounds, with lots of expression.
While the focus of this soundset is on the pads, the other sounds are certainly no filler. There is a bit of an 80′s vibe throughout the set, and some references to artists and synthesizers of that decade are in the patch titles (e.g. the Roland D-50, Prophet VS, Oberheim OB-X).
A lot of work went into creating these patches, and I would recommend you check under the hood to see how they were made, as Padsheaven is also a lesson in sound design in Zebra.
In short, Padsheaven is an outstanding soundset. There is so much detail in the sounds, it just makes me want to sit still, listen closely, and let the sounds sink in. Truly exceptional. Joseph is offering a free demo bank with 16 patches so check it out.
More information: Arte Nuovo
Related:
blues
,
cymbals
,
drumkit
,
EZdrummer
,
EZX
,
Gretsch
,
Hans Lindbäck
,
reviews
,
Sabian
,
samples and sound libraries
,
Time+Space
,
Toontrack
,
vintage
,
Zildjian
Posted in
reviews
on Feb 12, 2013 -
1 comment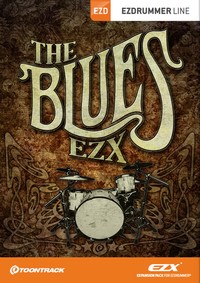 Toontrack's latest expansion for EZdrummer and Superior Drummer 2.0 is The Blues EZX, a sound library featuring two drum kits and MIDI grooves played by seasoned drummer Hans Lindbäck.
The Blues EZX comes with two complete kits; A 1970s Gretsch And A Calfskinned Swedish Levin set from the 1940s.

On top of that, it features contemporary Paiste and Sabian crashes, vintage Zildjan A and K series cymbals as well as extras such as a suitcase and a set of calfskinned tambourines. All instruments were handpicked and in many cases road-worn by the sampling drummer himself, a blues musician with more than half a decade worth of experience behind the kit playing the blues.
The Gretsch kit includes a nice versatile 14×20″ kick drum, a deep, fat sounding 5½x14″ Slingerland Radio King snare, and 8×12″ and 14×14″ toms. An alternative preset is available for the Gretsch kit, swapping the kick and snare with a suitcase and a 30′s 6½x14″ Premier Brass snare.
The Levin drum kit includes a deep 14×28″ kick, a 60′s Premier Wood 5½x14″ rich sounding snare, and high and low tuned 9×12″ toms. These drums all have calf skinned heads.
One hihat is included in all kits, a 14″ Zildjian New Beat/Rock Beat combo, another choice for versatility. The cymbals include vintage 60′s Zildjian A and K series rides (19″ & 20″) and crashes (10″, 12″ & 18″), as well as a 16″ Paiste crash and 16″ and 18″ Sabian hand hammered crash cymbals.
Finally, two additional Grover Tambourines round off the setup.
The Blues EZX comes with a library of MIDI grooves, 13 songs in total in shuffle, swing, straight and 12/8 categories. Song include a number of grooves with closed hihats, open hihats, cymbals, breaks, fills, intros and endings. The library spans a large variety of tempos, from 80 to 198 bpm.
Check the video below for a quick impression of the sounds and grooves.

Toontrack's Blues EZX for EZdrummer and Superior Drummer 2.0.
So what do I think?
Product
: Toontrack The Blues EZX
Format
: EZdrummer / Superior Drummer 2.0
Price
: 69 EUR / $89 USD
Like
: Spot on drum sounds and grooves, versatile kits
Don't like
: –
Verdict
: 9/10
The Blues EZX drums and cymbals have been sampled with a good variety of articulations and the included kit pieces offer sounds for a range of styles, from jazz to blues to pop/rock. Hans Lindbäck provides a great set of songs with plenty of variations, interesting fills and breaks, and most important, an authentic blues vibe.
Having played guitar in a blues band for a number of years, I really enjoyed The Blues EZX. It feels very natural and I would have loved to have the sounds of these drum kits in our band back then. While to me, blues is all about playing together, this sound library is great for rehearsing, working out ideas, or doing studio work where you would normally get a session drummer.
In short, the Blues EZX is a solid, high quality set of drum kits and grooves that are great for blues music and beyond.
More information: Toontrack / Time+Space
Related:
AU
,
controller
,
DAW
,
gear
,
hardware
,
host
,
Jeremy Ellis
,
LED
,
Maschine
,
MIDI
,
MPC
,
Native Instruments
,
recording
,
reviews
,
RTAS
,
sequencer
,
software
,
USB
,
VST
Posted in
reviews
on Feb 05, 2013 -
0 comments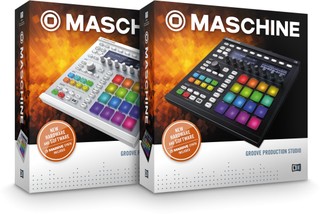 First there was the Maschine, then came Maschine Mikro, and now Native Instruments has updated both to mk2 with new software features, an improved controller, and additional hardware accessories.
For those who have never heard of Maschine before, it is basically a combination of music production software with a dedicated hardware controller. A tightly integrated system that can be used standalone – including hosting of 3rd party plugins, or as a plugin in another host. The groovebox-like hardware controller can also be used to control external hardware and software via MIDI with Maschine's MIDI mode.
Now, I realize I am a bit late to the party with this review, and to be honest after checking some earlier reviews I found pretty much everything I would like to say has already been written at Oh Drat. So I'll try my best not to ruminate and list everything you can already find at the Native Instruments website anyway, and instead just mention a few things I found particularly interesting when using the new Maschine.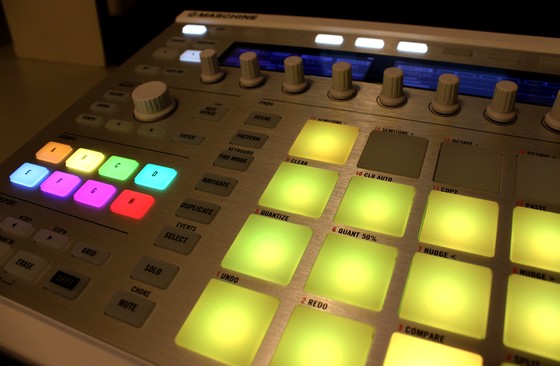 Multi-colored pads and group buttons on the Maschine mk2 controller.
While the rainbow colored, toy-like appearance did not appeal to me a whole lot at first, I found myself using color coding on sounds and groups pretty much from day one. I already did the same thing in other music production software to indicate groups of instruments, sounds, effects, etc. and having the same kind of thing in Maschine is a definite workflow improvement for me.
Besides having multi-color LEDs, the pads also have a much improved sensitivity. I thought the pads on the original Maschine were really good, but to me the Mk2 is an order of magnitude better still. The sensitivity is just amazing, even at really low velocities. I can now confidently tap away the night without worrying about waking up my kids in the next room.
I also enjoy the new screens a lot better, easier on the eyes and improved readability. It has helped me to do more from the hardware controller where before I would jump to the computer screen. The fact that you can now audition samples from the hardware before committing helps a lot too.

The new screens on the mk2 are very good in places where you have very little light.
On the whole many of these changes are seemingly minimal improvements, but in fact they are most useful. Like the little click response on buttons, something I didn't even know I wanted until the mk2 came along, what a lovely improvement.
On the software part I feel that Native Instruments has an extremely difficult job. Besides implementing some of the new features to go with the hardware, there are tons of feature requests from existing and potential customers. It is not likely you're ever going to be able to please everyone with any update, much less a point update.
Time stretch/pitch shift is a much requested feature that was implemented, but… for some reason it is not a real-time process. While the results of processed audio is impressive, it kind of stumps me why can't just have a preview and commit function?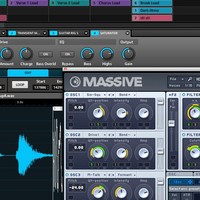 The additions of the Transient Master module, some new tape and tube saturation models for the Saturator module, and a free copy of the Massive software synthesizer are nice bonus.
With MASCHINE 1.8, all MASCHINE users get the full version of the modern legend MASSIVE – the synth that gave birth to the earth-shuddering bass tones and speaker-troubling leads that have defined the bass music genre. This monster synth contains 1,300 ready-to-go sounds, all instantly browseable via the MASCHINE hardware. MASCHINE's eight control knobs offer direct access to MASSIVE's eight Macro controls, for perfect synergy between hardware and synthesizer, and a lightning-fast workflow.
It is my guess that over time, Native Instruments is going to be integrating more and more of its sounds & effects into the Maschine package.
There are a bunch more improvements, of which I want to mention one that may seem minor but it certainly made my day. You can now use both your hands for recording automation of parameters by pinning down the "Auto Write". I record automation a whole lot so this little feature is a godsend to me.
What didn't get much attention is MIDI. I work pretty much completely in the box so it's no big deal to me, but if you use a lot of external gear and need full MIDI implementation with MIDI CC and multiple outputs, version 1.8 does not yet bring what you're looking for. Native Instruments never said they would implement this in the update so can't blame them really, but it would be good to see full MIDI support nonetheless. I haven't a clue how much work it is to get it implemented, perhaps it will take version 2.0 to get it…
Lastly, I want to mention the new custom kits and stand accessories.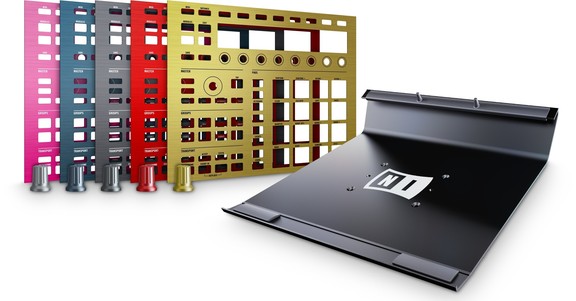 The custom kits are available in a variety of colors.
Some companies were already offering custom stickers and modifications for the original Maschine, so Native Instruments cleverly pulled the market towards themselves by offering a custom kit with faceplate and knobs in various colors. Granted, the pricing of these kits is a bit steep, but I have to say they look really good. Great quality and replacing the magnetic faceplate and knobs is really easy.
The stand is also something you could probably do yourself for less money, but again, great quality piece of hardware and it looks sleek. It can be mounted on standard drum hardware with the included Mounting Adapter.
Alright, to finish I want to show the obligatory Jeremy Ellis video. It should be said that this makes me want to sit down with my Maschine all day, but realize that it is not likely you will ever get anywhere near the amazing stuff he does. At least, this is truth in my case.
Also, for a great overview of everything new in Maschine mk2 and the 1.8 software, check out this excellent video by Dubspot's Matt Cellitti.
So what do I think?
Product
: Native Instruments Maschine mk2
Format
: VST/AU/RTAS/Standalone
Price
: 599 EUR / $669 USD
Like
: Amazing pads, great screens, many workflow improvements, fun!
Don't like
: No real-time time stretch, No full MIDI implementation
Verdict
: 9/10
Improved pads, screens & workflow, new effects and the Massive synth included. No earth shaking features perhaps, but with mk2 the Maschine platform is moving along rather nicely.
At the same retail price of the first model, Native Instruments is definitely offering a superior package with Maschine mk2. For those who already have the original Maschine, the software update is free. Personally, I enjoy the pads and colored LEDs so much to justify getting the mk2, but whether the controller improvements are worth the upgrade or not is up to you.
There is still a lot of room for Maschine to grow, and I am pretty confident that Native Instruments is going to tackle some of the top feature requests in future upgrades, but as is, Maschine mk2 remains an amazing piece of gear. Native Instruments calls it fast, intuitive, powerful and flexible. I call it a joy to work with.
More information: Native Instruments / Maschine mk2
Related:
Boxed Ear
,
Kontakt
,
modular
,
reviews
,
Roland
,
samples and sound libraries
Posted in
reviews
on Jan 17, 2013 -
0 comments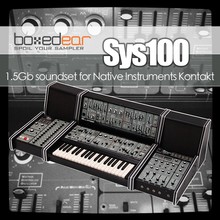 Boxed Ear has recently released Sys100, a sound library featuring the System 100 analog synthesizer by Roland.
Sys100 is a Kontakt library made entirely with the incredible Roland System 100 semi-modular analog synthesizer and we were very excited to get our mitts on one earlier this year. After months of patching, sampling, looping, tuning and tweaking we can finally unleash the results – a unique and modern sounding sample pack which sounds as good as the System 100 looks.

As with our Mighty M5 pack, we've put all our efforts into coaxing the most interesting patches and sounds from the System 100 so you get a wonderful library of expressive and playable Kontakt instruments.
The library includes no less than 4,619 wav files (24bit/44.1kHz) and 80 Kontakt instruments with up to 16 velocity layers and round robin samples. The instruments are grouped in Raw mono, Raw poly, Processed mono, Processed poly, Drums and FX, and Waveforms categories.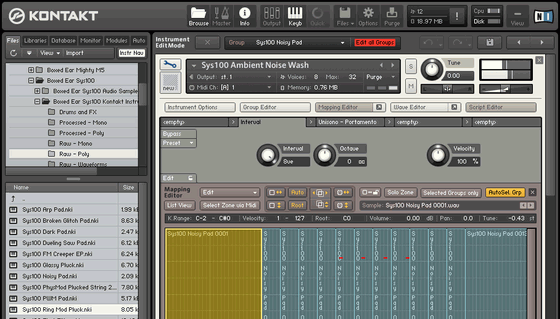 Boxed Ear Sys100 in Native Instruments Kontakt 5.
There is a good amount of variety bass, leads, pads, strings, plucks, glitchy sequences, drum/percussion hits, sound fx and more. Check the audio demos below to get an idea of what's included.
So what do I think?
Product
: Sys100 by Boxed Ear
Format
: Kontakt 4/5 (Kontakt Player NOT supported)
Price
: $49 USD/39 EUR/£30 GBP
Like
: Beautifully sampled, superb patches
Don't like
: –
Verdict
: 9/10
Boxed Ear continues in the same high standard set by its first sample library, the Mighty M5.
The samples sound authentic, vintage, full of life. Clean when it needs to be, at times noisy, raw and pure, but always chock full of character. I can't get over how fat the bass sounds are, and I love how some of those are looped. Reminds me of the sounds of 90′s jungle/drum'n'bass, especially with a patch like "Big Sync Lead". Hold a note and start sliding for instant reese. Boh!
While the palette of sounds suits any type of electronic music, it took me only a good half hour before I found myself knee deep into a Board of Canada vibe. The warble/drift in patches like "Twisted Beauty" and "Canadian Sine" are just so musical, they can easily carry a tune.
In short, Boxed Ear delivers another set of beautifully crafted instruments, with heaps of unique and exciting sounds. This library is a true gem!
Related:
Luftrum
,
patches and sound banks
,
reviews
,
u-he
Posted in
reviews
on Nov 13, 2012 -
0 comments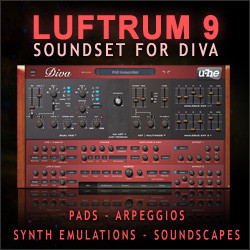 Ever since hearing some of his patches for Camel Audio's Alchemy, Søren Hybel aka Luftrum has been on my radar.
With Luftrum 9, users of u-he's virtual analog DIVA synthesizer now have a chance to get 64 sounds from the Danish sound designer, field recordist and electronic experimentalist.
Luftrum 9 contains 64 presets ranging from smooth ambients pads to gentle arpeggios, berlin school sequences and synth emulations inspired by Tangerine Dream, Kraftwerk, Royksopp and Jean Michel Jarre.
Luftrum 9 patches:
21 Ambient Pads
19 Arpeggios
15 Synths
4 Soundscapes
3 Sound Effects
2 Strings
The patches make use of Diva's onboard effects, sometimes quite heavily. Still, the CPU usage is really good on most sounds. Luftrum designed the presets in "fast quality mode", so that's great when using Diva on older machines. The patches includes information on what parameters are controlled by mod wheel, velocity, aftertouch, etc. The set is geared towards ambient music, and the patches generally sounds warm and dynamic.
It is interesting that the soundset includes arpeggio patches, as Diva has no arpeggiator. Of course nothing stops you from using these patches to create your own sequences, but Luftrum designed them for use with an arpeggiator. Kirnu was used in the process, so you could pick that up from Arto Vaarala.
Reaper users can also get this playlist for Kirnu, or download an archive of fxp/fxb for use in Kirnu with other DAWs.
Check the audio demos below to hear some of the sounds of Luftrum 9.
So what do I think?
Product
: Luftrum 9
Format
: .h2p patches for u-he Diva
Price
: $19 USD
Like
: Beautiful sounds, well programmed, CPU efficient
Don't like
: –
Verdict
: 10/10
Did you listen to the audio demos, and you are still here? This soundset is stunning. From start to finish, each and every single one of these 64 patches is a beauty.
I am truly inspired by the sounds and sound design of Luftrum. A first pass on the patches had me sucked in for over an hour, it's just that good. Classic sound and modern day quality combined, what more do you want?
I love everything in this set (yes, also the R2D2 emulation), with the pads section being my favorite. These are simply gorgeous, beautifully crisp, warm, evolving, completely drawing you in.
This is my favorite Diva soundset to date, highly recommended!
More information: Luftrum / Diva soundset
Related:
AAX
,
AU
,
channel strip
,
d16 group
,
emulation
,
instrument plugins
,
MIDI
,
mixer
,
modulation
,
reviews
,
Roland
,
RTAS
,
sequencer
,
synthesizer
,
vintage
,
VST
Posted in
reviews
on Oct 31, 2012 -
0 comments
D16 Group's LuSH-101 is probably one of the most anticipated synthesizer plug-in of 2012. Since the initial announcement of the synth (then named Shioiter) over three years ago, it has been a long wait with few progress updates.

With such a long development stage – or rather the general public being in the know so early on – there will always be some hype and (unfounded) high expectations. And sure enough, when LuSH-101 finally arrived the reception was mixed. Some people instantly dismissed it for not emulating the SH-101 faithfully enough, having too many bells and whistles, being a CPU hog, or it just not living up to the "one synth you'll ever need" tagline. Others have praised LuSH-101′s resemblance to the sounds of the classic Roland synthesizer, or appreciate the additional features included in the plug-in offers.
Though I must admit I have always wanted an MC-202, I am not all that interested in how precise D16 modeled the SH-101. I've heard some audio clips comparing the both and it can certainly sound very similar, but LuSH-101 has a lot more to offer than its hardware counterpart.
The multilayer architecture guarantees that both the sound design possibilities and number of unique situations in which LuSH-101 can be used are virtually limitless. Layered sounds can be created simply by assigning the layers to the same MIDI channel; the results can sound as massive as anything imaginable! Assigning the layers to different keyboard zones allows you to create even the most sophisticated splits. Of course, you can always assign the various layers to different MIDI channels for 8-part multitimbral usage. And, virtually any combination of splits, layers, and multitimbrality is possible with just a single instance of LuSH. With each layer working as an independent synthesizer with its own polyphony, parameters, enhanced arpeggiator, and a palette of only the finest insert effects, LuSH-101 can push your creativity to unprecedented levels!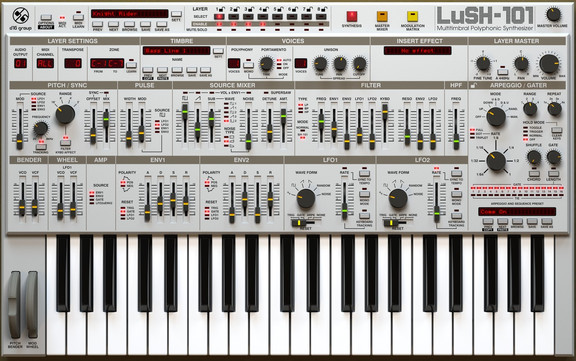 LuSH-101 certainly looks like a vintage hardware synthesizer. Love it or hate it.
Let's take a quick look at the specs.
LuSH-101 features
Multi-layer, 8 independent layers (synths) saw, square/PWM, noise oscillators, A sub osc, supersaw, hardsync, multi-mode and passive hipass filters, 2 LFO's and envelopes, insert effects, mod matrix, and arpeggiator.
Mixer panel with 11 output busses (8 layers + 3 fx), compressor and EQ for each, and reverb, chorus, and tempo-syncable delay send fx.
Includes 1,700 presets, with 5 categories (layer, arp, reverb, delay, and global).
First off, let me say that LuSH-101 requires quite a lot of processing power. Even a single layer sound can take up a considerable amount of CPU – especially when using multiple voices – let alone multiple layer sounds. That said, with careful programming and lowering some settings you can still get decent results on older systems like my good old duo core Pentium.

The sound of LuSH-101 starts with the oscillators. These do not necessarily have an "analog" vibe to my ears, but they do have a pleasant high quality sound about them.
Mixing square (pwm), saw, sub and noise oscillators you have a limited palette, but this can actually help you get creative in a "less is more" kind of way.
The hardsync on the square and saw is achieved by using a hidden oscillator. It has its own sound, I quite like it. The saw can also be stacked to create a supersaw. Not my type of thing really, but I hear it's pretty sweet.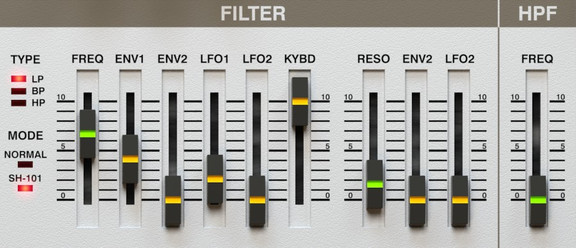 To the right of the source mixer is the filter section, with a multi-mode (lowpass, bandpass, highpass) resonant filter and a passive highpass, which is said to have a characteristic RC analogue filter. The multi-mode filter has two modes:
- Normal: The overall peak volume of the filter output is constant across the Cutoff frequency and Resonance domain and the filter itself is softer in comparison to SH-101 variant.
- SH-101: More unstable and analogue like with faithful emulation of self-oscillations appearing in SH-101.

I have no idea how faithful this emulation is, but the SH-101 mode sounds quite different from the normal one so make sure you give it a try. Note that some filter stepping is audible, and I am not sure if this is intended but it doesn't bother me to be honest. Two envelopes and two LFO's are available to control various parameters, including things like pitch, pulse width, and cutoff & resonance of the multi-mode filter.
LuSH-101 offers various trigger modes for its envelopes and LFOs, and a special SH-101 mode can be selected from the options panel. The envelopes are also nice and fast, which is demonstrated by the lovely drum sounds this synth can produce.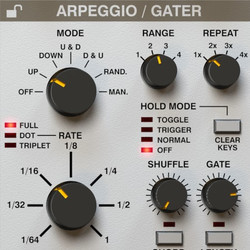 Moving a bit further to the right of the interface we find the arpeggiator. This features various modes (up, down, up/down, random, etc), a host of tempo/rates, shuffle, chords, gate and tie sequencer, and more. I tend to do everything in my host, but I have to say an arp like this is easy and fun to use.
To spice things up a bit, LuSH-101 also includes some internal insert effects: Chorus, Flanger, String Ensemble, Phaser, Vowel Filter, Distortion, Decimator, and Tremolo. These are simple, solid effects. I especially like the vowel filter and decimator, and the chorus is great for creating lush sounds. You can currently only select one effect at a time, but note that you can set a different effect for each of the 8 layers.
The mixing panel lets you mix all your layers in channel strips. Each channel comes with a compressor, equalizer, and 3 send fx controls for the global reverb, delay and chorus effects. These effects also have dedicated channel strips with an EQ.
On the one hand I like this approach of designing a sound pretty much completely within a synth, on the other hand I feel it is a bit silly to be mixing and applying compression, eq, etc. in a plug-in when you could simply do this in your host software. I'm still a bit divided on the whole thing.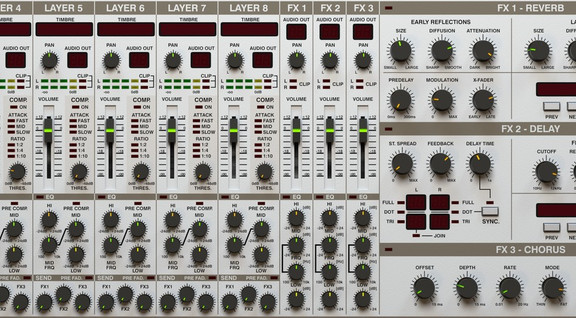 LuSH-101 mixing panel with 8 layer channel strips and 3 fx channels.
All parameters of LuSH-101′s individual layers (incl. arp, insert fx, mod matrix, etc) can be stored in a timbre preset. The arpeggiator also has its own presets, and so do the reverb and delay in the mixer panel. All settings within an instance of LuSH-101 are stored within a global preset.
The presets browser feels a bit outdated to me. Preset name, author and rating are stored, yet there is no search option or tagging system available. It is basically plain old hierarchical folder browsing. That said, the presets themselves include many wonderful sounds. Lots of quality presets categorized in bass, drum, fx, mono/lead, poly, and tempo based folders.
Alright, a few more bits and bobs before I round up.
LuSH-101 features a plain and simple (boring?) modulation matrix. Source, destination, and amount in a simple panel. Some useful parameters are missing from the destinations list, but more will be added in a future update. A wider range of modulation values would be useful as well.
Talking about updates, the interface has received a good portion of critique from users who either can't fit the whole thing on their screens, find the huge keys a waste of space, or simply can't read a thing with those tiny text labels.
Fortunately, the developers are listening and the option to hide the keyboard – which I also though was waste of space, but would you believe I miss it when it's hidden… – was implemented already, and additional interface sizes are planned for an upcoming update. At a later stage we should even be able to pick our favorite colors for the GUI, just like the early Shioitor teaser shots suggested.
Lastly, when first trying to automate something within your host you will find LuSH-101 doesn't send out anything by default. As there are too many parameters to assign within the VST/AU spec of 128, you are left to do your own maps. A bit annoying to have to set up, but it's probably something you are only going to do once and you can use your custom map as a default for subsequent sessions. And again, it has already been announced that improvements for parameter handling, automation and the modulation matrix are planned. LuSH-101 is only going to get better with time.
Check the demo tracks below to listen to the sounds of LuSH-101.
So what do I think?
Product
: LuSH-101 by D16 Group
Format
: AU/VST (RTAS and AAX coming)
Price
: 149 EUR / $199 USD
Like
: High quality, beautiful sound, great presets, layers
Don't like
: High CPU use, presets browser
Verdict
: 9/10
Quality comes at a price, and I don't mean the actual price tag. LuSH-101 requires a lot of processing power. There is no denying that this can be a deal breaker for those with "underpowered" machines.
Looking past this issue (and once again coming to terms with bouncing/freezing in your host), there is also no denying that LuSH-101 is a proper monster synthesizer that is capable of producing high quality sounds. Beyond the SH-101 comparison, LuSH-101 offers so much more than the recreation of a classic. The layering system is really nice, especially for designing dynamic pads.
I am also well impressed with D16 Group's fast response to user requests/critique. If the first update and the list of upcoming improvements are anything to go by, it looks like LuSH-101 will only get better with time. I hope that there will also be some CPU optimization, or perhaps they could do a lite version with less options, but I will say it again: Quality comes at a price.
Hats off to the D16 team for what they have achieved.
With the version 1.0.1 update, the LuSH-101 demo now allows 30 minutes of testing (and no more annoying pop-up window) so go check it out.
Related:
patches and sound banks
,
reviews
,
Tom Shear
,
u-he
,
Waveformless Soundware
Posted in
reviews
on Oct 21, 2012 -
0 comments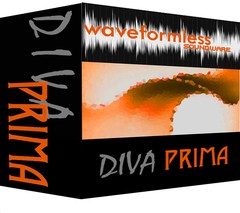 Waveformless Soundware's latest offering is DIVA Prima, a collection of sounds for u-he's virtual analog DIVA software synthesizer for Windows and Mac.
DIVA Prima is a testiment to the flexibilty of u-he's creation. Chunky Minimoog basses, Kraftwerkian synth percussion and drums, raspy mono-leads, lush Solina-like synth strings, massive, Jupiter-esque pads, delicate, glassy plucks, and even digital, FM-type sounds.

On top of that, we've included some sound-alike patches. Need the resonant synth sound from Yaz's "Only You"? We've got it here. Need the famous Yamaha TX81Z "Latelybass" preset? We've got a pretty convincing version of that, too. Gary Numan-esque strings? Gotcha covered.

But we don't stop there. Amidst all of the beautiful sounds are their ugly cousins, using crossmod, filter FM, and other unusual techniques to give you startlingly original and edgy sounds sure to stand out in a mix.
The soundset includes 128 patches (plus an Init to create your own). Unfortunately they aren't categorized or tagged as such, which is a shame because I do like my patches neatly ordered when possible. With this amount of patches it's alright though, also since many patches have good descriptions.
Part of the patch list of Diva Prima, with a lovely OSCar like lead patch selected, that is similar to the type of leads Ultravox often used.
Many patches have useful modulation mappings, allowing for more expressive playing. Diva's patch information panel is used to describe the patches and show which controls are mapped.
When you audition your new patches, be sure to check out what the mod wheel or aftertouch does. It might be something subtle like opening the filter or adding vibrato, or it might be something much more striking via crossmod or filter FM, but almost every patch has some sort of modulation assigned to it for more expressive sounds.
Have a listen to the demo tracks below to get a good idea of what's included. These are all DIVA only (with just minimal mastering processing).
So what do I think?
Product
: DIVA Prima by Waveformless
Format
: .h2p patches for u-he DIVA
Price
: $9.99 USD
Like
: Well programmed, good variety, cheap
Don't like
: –
Verdict
: 8/10
With DIVA Prima, Tom Shear delivers a solid set of sounds for u-he's virtual analog synthesizer.
Tom's industrial/EBM background shows, but I am always pleasantly surprised by the versatility of his sounds. As with previous Waveformless soundsets, this collection includes a well balanced amount of bread & butter patches, as well as more unusual sounds.
Diva truly is a superb synthesizer – I reckon one of the best virtual analog's at this moment – and the sounds of DIVA Prima do shine on this beast. Also, the $9.99 price tag is not likely to be a deal-breaker. Check out this great value for money soundset at the Wavefromless website, and make sure to pick up the free demo pack with 10 patches.
More information: Waveformless Soundware / DIVA Prima