A complete list of products reviewed on rekkerd.org is available here.
Related:
AudioMulch
,
cinematic
,
loops
,
organic
,
Paul Rez
,
percussion
,
reviews
,
Samplephonics
,
samples and sound libraries
,
sound design
,
tape
Posted in
reviews
on Sep 21, 2012 -
0 comments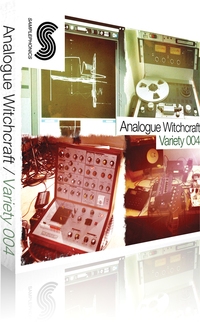 Tons of sample libraries are released week in week out, and I reckon it's getting increasingly harder to get noticed. Still, every once in a while there's a sample library that grabs my attention.
Since launching their website at the end of 2011, the guys at Samplephonics have been working hard to bring "fresh, unique sounds that inspire creativity and push the boundaries of music and sound", and that's certainly what they are doing with libraries like Analogue Witchcraft.
This is quite simply the most diverse and exciting sample pack we have released to date, packed full of leftfield and experimental loops and samples all with their own unique flavour and texture.
Leftfield and experimental, just my cup of tea!
The title Analogue Witchcraft might throw you off a bit so just to be sure you know what we have here. The library includes a fair amount of sounds coming from modular analog synthesizer sources, but this sample pack is not all about that.
For Analogue Witchcraft a combination of vintage and current equipment and software was used. Samplephonics mentions "experimental recording techniques", I call the pack's sound fresh. It includes recordings of acoustic guitars and foley percussion, and a Studer Tape Machine was used as well.
This library was made by Paul Rez aka Paul Ressel, an innovative sound designer, composer, and member of electronica band Lark from Cape Town, South Africa. As part of this band that is said to be "one of the key contributors to the rising experimental and idm crossover scene", Paul is no stranger to blending organic and acoustic sources with digital and electronic sounds.
Have a listen to some demo tracks and example loops from the sample pack below.
The pack includes no less than 226 samples grouped in 7 folders.
The first folder – Acoustic Guitar Day Care – sets the tone right from the start. These are some lovely acoustic guitar samples with a distinct sound, 42 loops in total. The description reads "played in a variety of unorthodox ways and processed in Reaktor and Audiomulch for some subtle effects". I really like Paul's style on the guitar, lots of flageolet tones and fragile melodies, lovely!
Taking things to the more experimental side we find Flawed Foley Melodies, a collection of 23 more melodic and rhythmic themes with stringed instruments and cinematic percussion type sounds. Unique in sound and execution.
The Half Buried Drum Loops folder includes 26 heavily processed beats. Heavy compression, long reverbs, nasty distortion. All is allowed here. Again, lots of unique material here.
Up next is the Organic Mechanic folder, in which 37 loops blend organic and mechanical sound sources. This results in more melodic and rhythmic themes, which are more on the experimental side as well. It's interesting to see the variety of styles, which go from dark cinematic to sonic youth type bass guitar.
The Retriggered to Tape section offers a selection of loops that were processed with tape. The 21 loops include lots of re-triggered piano and guitar sounds.
Just as you think you are getting a good sense of where this library is going we get another surprise. Synthi Hurtful Bass Loops is full of the type of sounds that will make some people question your sanity. You'll have to reassure them your speakers aren't broken, explain what idm is, that kind of thing. Samplephonics lists them as "gnarly twisted bass loops, recorded from a selection of analogue synth loops, bass guitars and upright basses". Gnarly & twisted, check.
The last folder is titled Uncooperative Sequences and they kind of remain in the same area as the synthi bass loops. These sequences also sound quite raw and twisted. There's a total of 48 melodic and percussive loops, which once again showcase a lovely sonic range and a wide variety of styles.
The sample pack also includes REX files for many of the loops (103 in total), and patches are available for easy auditioning in your favorite soft sampler.
In general the loops have quite a raw and honest vibe, played/composed with feeling and processed with care.
So what do I think?
Product
: Analogue Witchcraft by Samplephonics
Format
: 24bit, 44kHz/48kHz/96kHz Wav
Price
: £34.70 GBP
Like
: Unique sounds, inspiring
Don't like
: –
Verdict
: 9/10
I would like to describe Analogue Witchcraft as musical, experimental, glitchy, raw & energetic, and most beautiful. These sounds conjure up a childlike enthusiasm in me. The library is like a playground with lots of fun toys scattered around for you to find, pick up, and make your own. My favorite sections are the guitar sounds and the drum loops.
The library is most suited to idm music producers and many sounds have a vibe that would work well for cinematic projects as well.
In short, Paul Rez created a truly remarkable collection of loops with a sound I haven't really heard before. Recommended, check it out!
More information: Samplephonics / Analogue Witchcraft
Related:
AU
,
instrument plugins
,
reviews
,
Tone2
,
vintage
,
VST
Posted in
reviews
on Aug 31, 2012 -
0 comments
In many ways there is a world of difference between hardware and software. Feel, size & weight, smell(?!), price… But as far as sound quality goes, virtual analog synthesizer plug-ins are increasingly becoming more like their hardware counterparts. I am not sure how developers got the sound of vintage synths in early emulations and "inspired by" synth plug-ins, but today it is all about modeling the originals down to the smallest parts.
Hot on the heels of FXpansion and u-he comes Tone2 with its Saurus virtual analog circuit-modeled synthesizer.
We carefully measured and modeled the circuits of many classic performance synthesizers, even including single capacitors and resistors to provide an extremely accurate analog model, faithfully capturing the spirit and character of these old machines.
Saurus aims to deliver that analog flavor with its "True Analog Modeling Technology", which according to Tone2 gives the oscillators the warm characteristic sound of analog hardware.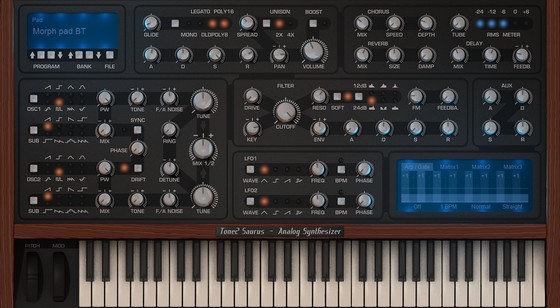 Saurus comes with a vintage look and a straightforward workflow.
The synth features two oscillators with 8 selectable waveforms each, including all the classic ones you would expect, plus some additional ones similar to Roland's Alpha Juno (PWM Sawtooth & Comb) and an organ stack inspired by Farsivar analog organs. The PW control allows you to extend range of sounds even more by morphing osc waveforms into more shapes. Both oscillators are paired with sub oscillators, also with 8 selectable waveforms each.
Controls are available for mixing oscillators and subs, tone, frequency and amplitude modulation noise, ring modulation, sync of both oscs, tune & detune, a phase adjust, and of course drift to get some of that vintage unstable sound.
The filter section sports 6 filter types, including three Chamberlin modeled filters (12dB LP, HP, and BP), a 24dB LP Butterworth filter, a notch and a formant filter. The 12dB LP is said to have the character similar to Korg's MS-20. I don't know too much about filter topologies or how Chamberlin and Sallen-Key relate, but the filter sure does some nice screaming. Not quite as aggressive as its reference but it sounds great nonetheless, especially when dialing in some extra drive.
Saurus comes with 2 LFO's, which only have 4 waveforms – I guess due to limited space on the interface – but you can select more waveforms from within the modulation matrix. The modulation system is kind of… vintage. No smart features here, just three pages of 5 modulation slots to assign sources and targets.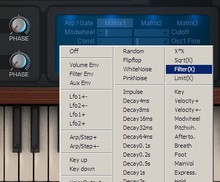 Interestingly enough, there are some parameters in the mod matrix that you can't access anywhere else, e.g. white and pink noise modulation sources. The mod matrix is also the only place where you can make use of the ADSR envelope of the AUX section.
To increase control over the modulation, Tone2 has also implemented some modifiers which basically sit in between the mod source and destination.
Switching the Mod Matrix screen to the first tab opens up the arpeggiator/gate, which also serves as a modulation source. The arpeggiator includes some interesting features like chord and release steps, step velocity and swing.
Unlike previous Tone2 synthesizers, the effect section is quite limited. The chorus, reverb, and delay units have just 3 knobs each, and a one-knob tube effect adds some analog tube warmth to your sound.
The general section has controls for note glide, voice mode, unison (2-4x) with spread, a "psycho-acoustic boost", ADSR envelope and pan & volume.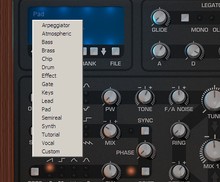 Saurus comes with no less than 563 presets by 20+ sound designers. The presets can be selected from the patch browser in the top left, where they are categorized by sound type.
Tone2 recently held a contest in which people were asked to create some tracks with a vintage character. Check out the winning entry below to get an idea of what Saurus can sound like.
Tone2 has posted a comprehensive introduction video for Saurus, so check it out below if you'd like some more details about this plugin.
So what do I think?
Product
: Saurus by Tone2
Format
: VST/AU plug-in
Price
: 99 EUR / $119 USD
Like
: Simple design, easy to program, versatile
Don't like
: Some features are mod matrix only
Verdict
: 8/10
There has been a lot of talk about Saurus, especially on forums like KVR where everything gets compared to bits.
The obvious challenge for Tone2 was to take on u-he's Diva, but to be honest, in terms of sound quality Diva is just miles ahead of the competition. And that's alright, because both are actually quite different. Whereas Diva's semi-modular design excels in sound quality, Saurus is more like a simple vintage synthesizer in a modern outfit. Easy to program, relatively easy on the CPU, and surprisingly versatile.
Tone2 – or its marketing copy – was perhaps focusing a little too much on trying to highlight Saurus' "True Analog" features, while Saurus in fact is a great all-round synth. Sure it does some lovely Alpha Juno type detuned saw sounds, but I really enjoyed browsing its presets and finding way more variety than I would expect from the average virtual analog.
In short, Saurus is a capable synthesizer in the area of both analog and digital type sounds. It is easy and fun to work with, and it has a fair price tag. Check out the demo and see what you think.
Related:
cinematic
,
field recording
,
Matt Lange
,
reviews
,
samples and sound libraries
,
sound fx
,
Wave Alchemy
Posted in
reviews
on Aug 21, 2012 -
0 comments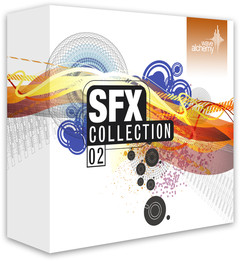 For SFX Collection 02, the guys of Wave Alchemy collaborated with producer Matt Lange of IsoRhythm, to deliver a library of sound effects for electronic music, cinematic scores, and game audio productions.
SFX Collection 02 delves deeply into new sonic territory by combining creative digital effects processing, granular re-synthesis and intricate automation with analogue synths, legendary effects devices and unique field recordings.
The library features a total of 826 samples (over 2GB in size), categorized in no less than eleven distinct types of fx sounds:
Cinematic Slams (68)
Cymbal FX (59)
Downshifters (55)
Impacts (55)
Noise Tools (83)
Risers & Falls (55)
Soundscape & Ambience (26)
Synth Impacts & Stabs (23)
Twisted Transition FX (91)
Uplifters (64)
Xtra – Analogue Synth FX (247)
The cinematic slams typically come with a bit of buildup in front of the slam, and a rather long reverberated tail behind it. Impressive, big sounding hits with a rather tense, disturbing undertone. Just what you would expect and hope to get.
The cymbal effects include both short (1 sec) and long (up to 35 sec) sounds. Includes your typical swoosh-type stuff as well as heavily processed samples. There is actually surprisingly much variety in sounds here.
Now, I have to admit I am not so well-versed in sound fx vocabulary, so I am not completely sure what exactly is the difference between downshifters and falls, and uplifters and risers. They all have this sense of something going up or coming down, with movement in pitch, lfo type effects, etc. Great for bridging different parts of your music/composition. Again, lots of unique, quality material here.
When it comes to the impact samples I can identify with some of the sounds and mentally place them in a familiar scene, while others are quite much out of this world. These are no simple run of the mill impact thuds.
For the noise tools section, Wave Alchemy used some vintage synths, analog effect units and experimental fx chains and re-synthesis to create noise-based effects, resulting in lots of sweep type sounds. These could also have gone in some of the other categories but I guess the sound sources and processing is what got them grouped in a bunch.
If I wasn't already hugely impressed by the sound design on all these samples, the soundscape & ambient section shows a fantastic selection of inspiring, complex, yet usable sounds. Both cinematic and musical ndash; slightly creepy at times ndash; just amazing stuff really!
While reading, why don't you have a listen to Wave Alchemy's demos below for a quick impression.
The synth impacts & stabs section brings more impacts, but with a distinct synthesizer flavor this time. As such, these are generally more tonal than the previously mentioned cinematic impacts. They basically sound like a synth hit processed to bits.
This library just keeps blowing me away. The twisted transition fx are just stunning. These are heavily processed and truly creative transition sounds including morphing granular effects, transformed foley recordings, undulated Doppler FX, spectral trickery and all manner of other sonic destruction!. Yes, this is the icing on the cake. Crazy wild effects like you've never heard before.
The last folder in this library reads "xtra – analogue synth fx". One might think these are just a few bonus sounds, but get this: no less than 247 extremely raw sounding audio effects which have been created using our extensive collection of high-end analogue studio equipment are included here!
These "dry" sounds include lots of similar sounds to the ones in other folders, but unprocessed. Very useful.
All of the samples in this library have descriptive titles, and 16 sampler patches are included for easy auditioning of the sounds.
So what do I think?
Product
: SFX Collection 02 by Wave Alchemy
Format
: 24bit Wav + Kontakt, EXS24, Halion & SFZ patches
Price
: £44.95 GBP, individual sections are £7.95 GBP each
Like
: Superb quality, fantastic sound design
Don't like
: –
Verdict
: 9.5/10
I don't need to write a lot here. Simply said, SFX Collection 02 is a stunning sound effects library. It is impressive in every way, from sound design to sound quality. It has a huge sound, a perfect blend of cinematic & electronic, incredibly versatile and not limited to any kind of genre at all really. These sound effects are good to go.
I reckon is the one that has set the bar to a new level for this type of sound fx sample libraries.
Check it out at Wave Alchemy, and make sure to download the free demo pack with 60 sounds.
More information: Wave Alchemy / SFX Collection 02
Related:
Bronto Scorpio Music
,
Dennis Harms
,
patches and sound banks
,
reviews
,
sound design
,
u-he
,
vintage
Posted in
reviews
on Aug 10, 2012 -
0 comments
Dennis Harms aka Bronto Scorpio has contributed many patches to various u-he plug-ins — including Zebra and Uhbik, and some of his sounds are also included in the third party patches that ship with Diva, the "Dinosaur Impersonating Virtual Analogue" synthesizer that takes virtual analog to a whole new level.
With Future Retro for Diva, Dennis releases his first commercial soundset.
Diva is famous for the ability to authentically recreate the great synthesizers of the past. However, I tried to go a different direction with this set. Many sounds are inspired by the past, and use Diva's great sound design potential to go way beyond vintage sounds into the future!
One of my favorite patches in the set, a wonderful lush pad called "Beautiful Colours".
Future Retro includes 64 presets, categorized as follows:
12 x Bass.
9 x Drum.
9 x FX.
10 x Pad.
6 x Sequence.
18 x Synth.
Most sounds within the set are pretty unique with very little overlap. The patches are well designed and include controller mappings of modwheel, aftertouch, velocity etc. linked to things like filter and LFO parameters.
Some patches require quite a lot of horsepower, since they are designed to run on Diva's "divine" quality mode. Alas, this is life with Diva at the moment. Quality comes at a price and I am more than happy to work in draft mode and render audio until I upgrade my computer in the next few years.
Check out the Future Retro demo clip by Dennis below to get an idea of the kind of sounds included in this set.
If you want to get hands on with these sounds, there's a free demo bank with 10 presets available to download here.
So what do I think?
Product
: Future Retro by Bronto Scropio
Format
: .h2p patches for u-he Diva
Price
: 10 EUR
Like
: Quality sounds, musical, affordable
Don't like
: Perhaps a bit divergent for some
Verdict
: 8/10
Diva already comes with a large number of impressive presets by seasoned sound designers. Nonetheless, Future Retro manages to bring a good collection of new sounds. Many of them don't necessarily stand out all that much, but they do have a certain quality: musicality.
The soundset includes a wide variety of sounds, suitable for diverse electronic music styles — perhaps a result of Dennis' personal taste in music. I can imagine some people might think the set as a whole is a bit confused, having modern sounding dubstep wobble basses and things like vintage pads and brass sounds in one and the same set, but to me everything seems to fit together quite nicely. The idea was to take vintage and bring that into the future and I think Dennis achieved his goal. Moreover, even if you only like half the sounds I reckon Future Retro is well worth the asking price. My favorite sounds are in the pads sections. The sound of "Beautiful Colours" just captivates me.
Check it out (and if nothing else get the free patches) at the Bronto Scorpio website. And if this is the first time you've heard of Diva make sure to visit u-he for some more detailed information about this amazing synth.
More information: Bronto Scorpio Music
Related:
cinematic
,
drums
,
loops
,
Nick Moritz
,
percussion
,
reviews
,
REX
,
samples and sound libraries
,
taiko
Posted in
reviews
on Aug 09, 2012 -
2 comments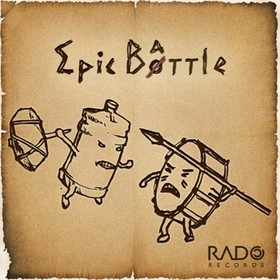 Nick Moritz of Rado Records has just released his first commercial sample library: Epic Battle.
Epic Battle is a compact cinematic percussion sound library which is intended to add an epic spirit to any composition. This library will save you from long searches of the right samples and boring processing them or from buying expensive libraries just for several samples.

Moreover the library shows that the creation of the massive epic sound like legendary Japanese Taiko can be achieved by simple tom drum or even sound of plastic bottle. And this idea is in the concept of Epic Battle library.
The sample pack comes with a total of 250 samples:
100 tom loops.
100 bottle loops.
50 one-shot samples (25 toms, 25 bottle sounds).
The samples come in 24bit/48kHz Wav and REX2 formats, with tempos from 100bpm to 180bpm. The sounds of Epic Battle are processed to get that big cinematic sound. A demo project file is included for users of Cockos Reaper.
Check the audio demo below to hear Epic Battle in action (all percussion is Epic Battle).
So what do I think?
Product
: Epic Battle by Rado Records
Format
: 24-bit/48kHz .wav & REX2
Price
: 12 EUR
Like
: epic, authentic percussion, dirt cheap
Don't like
: –
Verdict
: 9/10
I love the cover graphic for this sample pack. How clever! But, can you really get big cinematic percussion sounds from a bottle? Well yes, Nick shows that with the right type of processing you can indeed get some impressive results.
The loops in this pack sound stunning, especially considering the sound sources. The rhythms are great, authentic sounding, cinematic, and they have plenty of variety. You can also make your own rhythms by slicing and combining parts from different loops and single shot sounds. The REX format works very well across a wide tempo range.
Epic Battle is a relatively small library, yet it packs a lovely punch. At just 12 Euros it is also nicely priced, and unless you already have some more comprehensive quality cinematic percussion libraries you should probably pick this one up before Nick changes his mind and ups the price. Incredible value for money.
More information: Rado Records / Epic Battle
Related:
Boxed Ear
,
Ken Macbeth
,
Kontakt
,
Macbeth
,
modular
,
reviews
,
Rory Dow
,
samples and sound libraries
,
sound design
Posted in
reviews
on Jul 24, 2012 -
0 comments
Professional musician and sound designer Rory Dow recently launched his new company Boxed Ear with the release of Mighty M5, a sample library for Native Instruments Kontakt.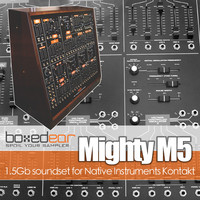 Mighty M5 was made with samples from the Macbeth M5, a monophonic semi-modular analog synthesizer by Ken Macbeth.
The M5′s sound is characterised by its full, rich bass, crystal high end and distinctly analog tone. Even the raw waveforms sound gorgeous with no filtering or modulation.

Huge basses and leads, luscious pads, electric pianos, drums, one-shot effects, and crazy modular bleep and bloops are all included in this pack.
The library includes no less than 4,346 samples in 24-bit/44.1kHz audio quality, good for 1.5 GB content.
Well over 100 multi-sampled Kontakt instruments were made with these samples, nicely categorized in Raw (34 mono and 20 poly), Processed (13 mono and 19 poly), Drums (1) and FX (2), and Waveforms (18) categories.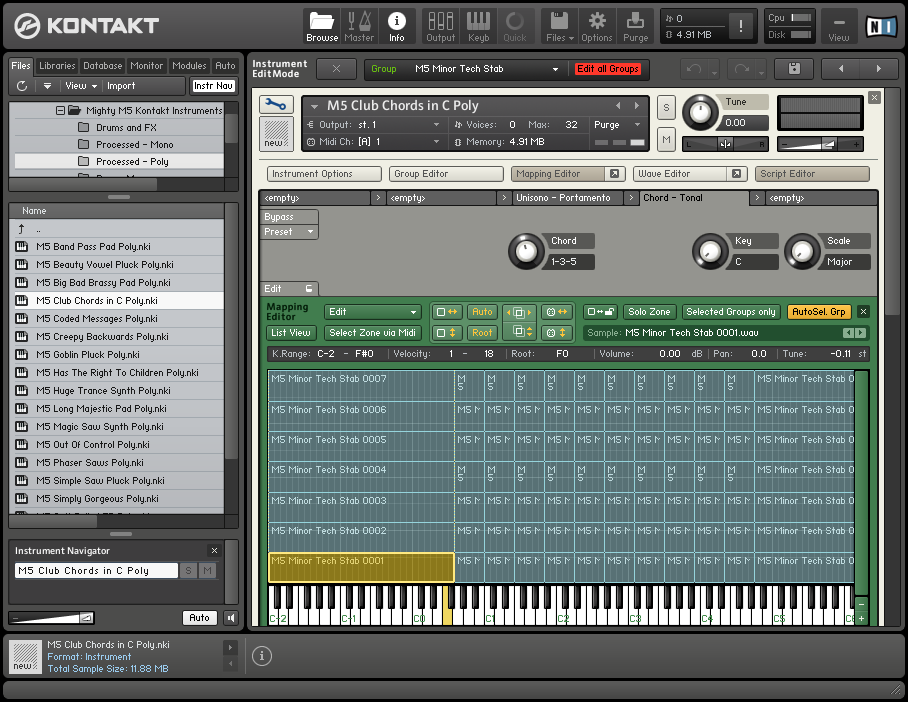 Processed, polyphonic "Club Chords" patch, with a good amount of velocity levels.
The instruments are deep sampled, with many having well over 100 samples. With up to 16 velocity layers there's a lot of detail in the sounds.
You can listen to some of the sounds in this library in the demo clips below.
Better yet, check out Rory's recent "Nostalgia for Infinity", in which the Mighty M5 takes center stage, providing the main melody for the performance.
So what do I think?
Product
: Mighty M5 by Boxed Ear
Format
: Kontakt 4/5 library (24-bit/44kHz .wav)
Price
: $49 USD/39 EUR/£30 GBP
Like
: vintage sound, fantastic percussion sounds
Don't like
: –
Verdict
: 9/10
"Full, rich bass, crystal high end and distinctly analog tone." What more can I add?
Though I am not so familiar with the original M5, this sample library looks like a proper tribute to Macbeth's synthesizer. I am well impressed with the quality of the samples and instruments, and it does not come as a surprise to me that Ken himself endorses this pack.
The collection is full of well-crafted instruments bursting with that vintage character, yet it has some sort of a modern/up-to-date feel about it as well. For many of the patches pressing a single note is all it takes for my inspiration to run wild. While I think every section of the library is exceptional, I would like to highlight the drum/percussion/fx hits in particular. So unique and versatile. Lovely!
With Mighty M5, Rory sets the bar pretty high for Boxed Ear. The library shows his passion for sound and music and I reckon it's a true labor of love. Two thumbs up!
Related:
AU
,
delay
,
effect plugins
,
MIDI
,
modulation
,
reviews
,
u-he
,
VST
Posted in
reviews
on Jul 10, 2012 -
0 comments
Dan Worall's recent introduction video for More Feedback Machine 2 reminded me I never posted a review for this most excellent effect plug-in from u-he.
As the name hints, this plug-in is all about delay effects.
More Feedback Machine has always been a synonym for ultra-flexible delay effects ranging from bread & butter to weird rhythmic deconstruction. In the early days of native plugins, MFM1 was well ahead of its time. MFM2 carries on the tradition and extends it into the future.

The idea behind MFM was to give the musician as much control over 4 individual delay lines as possible, have them interact, and offer easy ways to modulate delay parameters in realtime.
At first you might feel a tad overwhelmed by MFM's interface, which looks more like some kind of complex synth than a delay effect.
More Feedback Machine 2 sports a futuristic look with tons of controls.
The larger part of the interface is taken up by the delay units, which are laid out in a circular design with a feedback matrix in the middle. In this matrix the delay lines are connected in various ways, either by using preset types like multi-tap or ping-pong, or by routing the delay lines in order to fashion the kind of delay network you want in the user matrix mode. Really flexible.
All four delays are identical, with options for setting the input signal, signal flow with regards to the filter, and the timebase for the delay, set in time (0 to 2,000 millisecond) or synced (1/64th to 1/2 dot). When in note mode, you can create a tuned comb filter effect and play the delay with MIDI notes, or set the tune control. Below the pan and output controls is the multi-mode filter section.
You might have noticed there's a number of empty controls as well. These are user-definable modulation controls. You can assign standard modulation sources like modwheel, velocity, keyfollow, etc. as well as 4 full featured LFOs and 2 MSEGs (multi stage envelope generators). An additional modulation matrix is also available for assigning modulation sources to all targets within MFM 2.
To round things off we also get various effect units for the paired delays 1 & 2, and 3 & 4: A soft clip distortion, decimator (bit crusher), phaser, frequency shifter, and dual filter. Two compressors are also available to further process the sound (standard + RMS feedback compressor). You can even use one pair of delay channels to compress the other.
More Feedback Machine 2 comes with a good amount of presets, showcasing traditional types of delay effects as well as the more creative side of this plug-in.
I could write lot more, but to be honest Dan Worall's intro video is a lot more entertaining and informational, so check it out below.
So what do I think?
Product
: More Feedback Machine 2 by u-he
Format
: effect plugin for PC & Mac (VST/AU)
Price
: $79 USD excl. VAT
Like
: Versatile, flexible, very creative… Delay heaven!
Don't like
: –
Verdict
: 9/10
More Feedback Machine 2 is one amazing tool, a high quality delay unit does everything from the simple and subtle, to the complex and insane.
The amount of control you have over the delays is kind of mind boggling – a sure-fire way to get my creative juices flowing. This is the kind of effect that inspires me to experiment and sculpt something new or find unexpected sounds I did not set out to create.
In short, More Feedback Machine 2 will surely take care of most – if not all – your delay needs. If you just need a simple delay this one is probably a bit excessive, but for the adventurous and those who want in-depth control over their delay effects: you will not be disappointed with MFM 2!
More information: u-he / More Feedback Machine 2