Dan Dean introduces Dan Dean Basses Advanced libraries + Solo Strings Advanced Acoustic Bass Expansion
Related:
acoustic
,
bass
,
bass guitar
,
Dan Dean Productions
,
Kontakt
,
samples and sound libraries
Posted in
news
on Jan 26, 2012 -
0 comments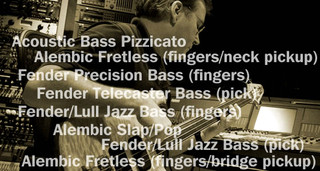 Dan Dean has announced the release of the Dan Dean Basses Advanced series of sample libraries.
Dan Dean Basses Advanced
9 new basses.
A huge number of samples, as many as 1,461 per instrument.
Meticulously sampled using our Accusample™ technology.
24 bit recordings.
4 round robins per note.
"Supertuned" using Peterson Strobosoft™.
A wide assortment of amplifiers via both IR and using Kontakt's built in tools.
Highest Quality at affordable prices $59 per instrument.
In Kontakt format.
Dan Dean also introduced DDSSA Acoustic Bass Expansion, a new addition to the Dan Dean Solo Strings Advanced (DDSSA) series.
Acoustic Bass Expansion features
24 bit ultra quiet sampling in Stereo.
Hand selected front end components – Mics, Special Cabling, Mic Preamps.
New NV Presets.
New "C Extension" extended range in selected presets (C1, C#1, D1, D#1).
High Definition, High Detail recordings.
In Native Instruments Kontakt 4 Format.
Articulations for each – Solo Acoustic Bass, 2 Basses and 4 Basses: Arco NV (with C Extension notes C1, C#1, D1, D#1), Arco V, Spicatto (with C Extension notes C1, C#1, D1, D#1), Pizzicato, Tremelo, Trill half step, Trill whole step.
More information: Dan Dean Productions