Daniel Miller of Mute Records shares tips on music production
Daniel Miller has been in the field of Electronic Music for decades and continues to be one of the most significant influencers in this particular musical genre, having worked with acts like Depeche Mode, Moby, Erasure, Yazoo and Goldfrapp. Miller is also the founder and owner of the legendary Mute records in London.
Dynaudio met Daniel Miller in his home studio for a chat about music, synthesizers, mixing and production.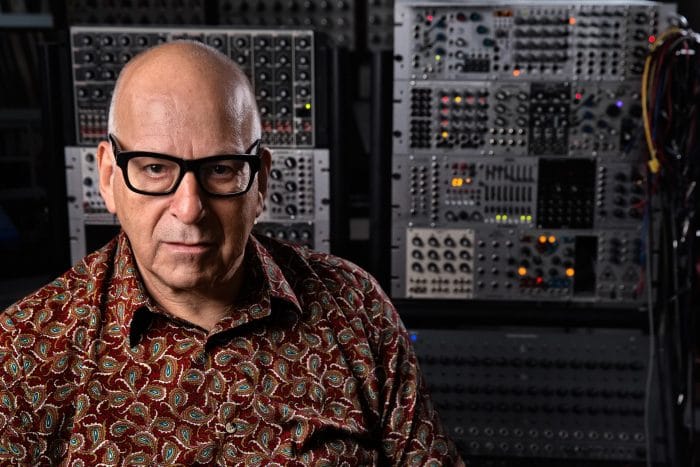 Surely, the conversation touched upon monitoring as an essential part of all music productions, but Miller also shares plenty of tips and opinions regarding general studio work and his approach to creating music.

"Generally, I like to stick with one set of speakers for the whole project," says Miller. "Know those speakers inside out and trust them. Then occasionally listen on very small speakers and very big speakers. When I was working with Depeche Mode, we only really used big speakers. Once we were happy with the mix, we would just sit back and enjoy this big sound. It's very misleading sometimes. So, if you start very quietly, when you turn it up a tiny bit it sounds really loud even though it's not loud – and there is no distortion. When I'm working with sounds, I don't need to hear them loud, I just need to hear them clearly."

To Daniel Miller, great studio monitors are the ones you know and trust. "The ones I happen to like are Dynaudio BM15's. For as long as I can remember, we have had those in the studio – and in my other studio in Berlin," Miller elaborates.

"Many professionals tend to mix at fairly low volumes, because it's easier on the ears and better for the overall mixing process. Now, in a home studio you may not even have the possibility to turn the volume up constantly because of the environment. For instance, you might live in an apartment and have neighbors left and right, above and below.

Therefore, our new LYD range of personal reference speakers set out to redefine nearfield monitoring. They sound exactly the same at low volumes as when cranked up loud, which will often save precious production time that can then be spent on creating more music. In short, it is no longer necessary to redo late night mixes created at low volumes."
More information: Dynaudio