Elvis Costello chooses Cloud 44-A ribbon microphone for solo tour
On his recent Detour solo tour, Elvis Costello accompanied himself on guitar as he sang his trove of hits. For a segment in which he performed inside a set designed to look like a life-size vintage television screen, he needed a microphone that not only offered excellent reproduction of his unmistakable voice, but that would complement visual look and feel of the era.
Costello and his engineer Fern Alvarez, who has run front-of-house sound for the Dixie Chicks, Paul Simon, James Taylor, Katy Perry, and many other stars, chose the Cloud Microphones 44-A Active Ribbon Microphone.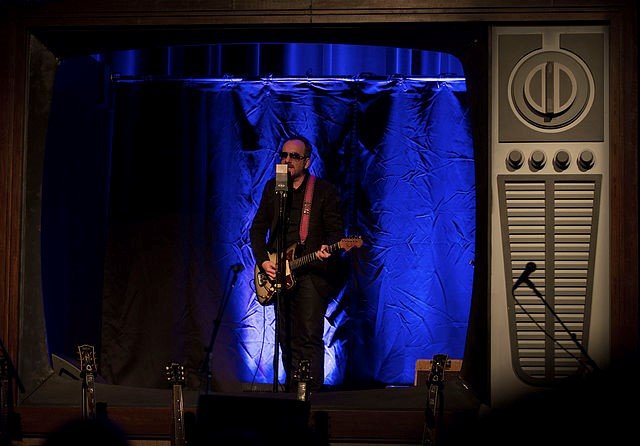 "The 44-A has been a wonderful piece of gear," said Alvarez. "It's a piece he loves because, first, it gives him a great show aspect. It's an aesthetic he's been looking for for years – something that reminds him of what his father might have used when he was growing up. It's the piece the press takes pictures of, and perfect for the sound and look he's going for."

Not only does the Cloud 44-A resemble the ribbon mics from the era of classic musical TV broadcasts to which Costello's tour homage, but its ribbon design delivered the elusive character that the artist had been seeking.

"Sonically, Elvis is very in tune with what he wants to present," explains Alvarez. "He's all about the sound the Cloud is creating. There's a grit he really likes and an aspect that the RCA* mics use to give back in the day. He knows when a mic is transparent, when it's in-your-face. As soon as I presented this mic to him, he did his own research and asked about certain elements. He's a student of the business." The result of that research was that the tour purchased two of the 44-A mics without any prompting or incentive from Cloud, choosing to share their story with us after the fact.

Beyond evoking a vibe of yesterday, any mic used on tour with a musician as exacting as Costello has to handle the live sound challenges of today. Alvarez found the Cloud 44-A was more than up to the task. "We've found that setting up the monitors at 90 degrees [relative to] the microphone gave him and us the best vocal volume through his monitor wedges – which we couldn't get with any other mic. We tried quite a few during rehearsals and the Cloud was best for that application," he says. "It's in an upstage position in the 'TV' and very forgiving even with some foldback being used, since Elvis is in a position where he can't hear the front-of-house mix as much. Not only are we able to use it for front-of-house and have a lot of gain before feedback, we're able to run it back to his monitors. There are very few pieces that offer that."

From there, the 44-A further simplifies Alvarez's life behind the big board. "The first thing I'll do is hit that high-pass filter on the console, but I'm happy to say this mic needs very little filtering. There are very few things we've had to do to let it sound as natural as possible. We're not having to cut low-mids as I ordinarily need to, or boost the high end. Elvis does dig into the mic, of course, so compression is something we'll always heed. But he knows how to use the mic where he's moving his body; he's kind of his own 'dynamics' when it comes to that."

All these virtues can quickly fade without reliability, though. Fortunately, Alvarez has nothing but praise for the 44-A in this department. "It's a workhorse. It's very high-quality manufacturing," he says. "Every other ribbon mic I've used in the past, after a year or more it's been sent back to the manufacturer for some TLC, or replaced. We ask for a backup from every vendor and we have yet to touch the backup [for the Cloud] with this show."
More information: Cloud Microphones / Cloud 44-A Active Ribbon Microphone