Note: this post is from 2008, outbound links may be broken.
Farview Recording releases UltraDrums
Related:
Drumagog
,
drums
,
Farview Recording
,
samples and sound libraries
Posted in
news
on Sep 10, 2008 -
1 comment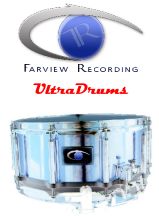 Farview Recording has released UltraDrums, a drum sample collection for Drumagog (includes .wav).
You get an incredible 139 gogs of professionally recorded drum sounds, including cymbals. All of the snare drums and crash cymbals are recorded in stereo for a more realistic sound. UltraDrums also ships with wav files of every sample, so these sounds can easily be used with any sampler you own.
UltraDrums features
Includes raw samples (no processing) and samples processed in 3 different ways.
Multiple velocity layers/multisamples for a smoother, more realistic response.
All of the snares and the crash cymbals are sampled in stereo for a more realistic sound. The cymbals are sampled with no processing so you can process and the samples to fit your mix.
32 kick gogs (8 kicks, sampled raw and processed).
22 tom gogs (3 sets of toms, sampled raw and processed).
68 stereo snare gogs (17 snares, sampled raw and processed).
17 cymbal and percussion gogs, all but the hat and ride are stereo for added realism.
UltraDrums is available for $149 USD (includes shipping).
Visit Rock-Drums.com for more information.