First Pensado's Strive titles announced by Penwick Media & Hal Leonard
The first round of titles in the Pensado's Strive program have been announced.
Pensado's Strive, an innovative new multi-format educational initiative, is the creation of Penwick Media (the creators of Pensado's Place, the acclaimed weekly educational web series) and Hal Leonard (the leading publisher of books and digital content on the music business, audio technology, and related topics). Another key partner in this initiative is Groove3.com, a leading online learning site who will act as a primary distributor of the online versions of Pensado's Strive content.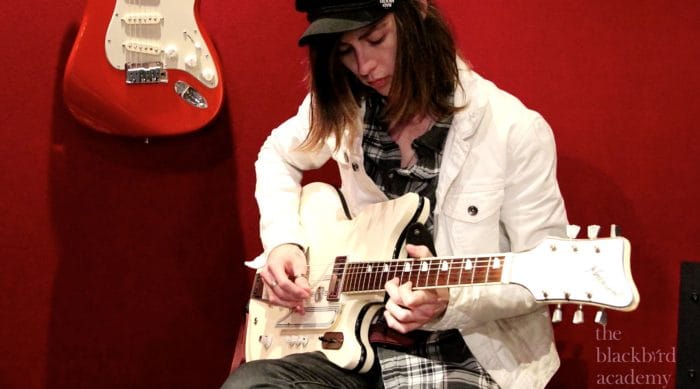 The first round of titles are authored by industry leaders The Blackbird Academy (acclaimed Nashville-based educational institution), Kuk Harrell (vocal producer: Rihanna, Beyoncé, Justin Bieber, others), producer/engineer Chris Lord-Alge (Pink, Foo Fighters, Avril Lavigne, Green Day) and producer/engineer Tony Maserati (Black Eyed Peas, Mary J. Blige, Gwen Stefani), respectively.

Under the Pensado's Strive umbrella, a vast array of courses are being made available globally to those who want to further their knowledge, skills and careers in the audio and music creation space. Driven by a passion for education, Hal Leonard Group Publisher John Cerullo, together with Pensado's Place hosts Dave Pensado and Herb Trawick (the principals and namesakes of Penwick Media) have created Pensado's Strive based on their shared vision of creating educational content of the highest quality for musicians, engineers and producers on all levels, as well as the music community as a whole.

To sign up for access to Strive titles, visit https://www.groove3.com/collections/Pensados-Strive.

The Blackbird Academy Foundation Series:
The Blackbird Academy Foundation Series has been created with the beginner-to-intermediate music-maker in mind. Users will start with the basics, learning about signal flow, electrical levels in audio, cables and connectors, the digital audio workstation, converters, and plugins that make the music loved by millions. Users will learn quickly, and at their own pace, through step-by-step infographics punctuated by key concepts only known at the top levels of production.

Other titles to follow include:

"Both Sides of the Glass: Working with Artists to Create Their Best," Kuk Harrell
In book-and-A/V series called "Both Sides of the Glass: Working with Artists to Create Their Best," the five-time GRAMMY® Award-winning and Golden Globe-nominated producer, vocal coach and songwriter Kuk Harrell draws from his experience collaborating with Rihanna, Beyoncé, Jennifer Lopez, Usher, Justin Bieber, Cher, Sting, Celine Dion and others, to conduct a full exploration of the art of working with artists in the studio and live.

"Inside the Mixing Engineer's Studio," Chris Lord-Alge
In "Inside the Mixing Engineer's Studio," also a book-and-A/V series, the legendary mixing engineer and multiple GRAMMY Award-winner Chris Lord-Alge (CLA) brings users into the world of making records, working with talent from Hall & Oates and Madonna to Green Day and Bruce Springsteen. CLA has worked with hundreds of the top recording artists in the world over four decades.

"Where Life Intersects Making Music," Tony Maserati
In "Where Life Intersects Making Music," likewise a book and A/V series, GRAMMY Award-winning record producer and engineer Tony Maserati offers stories and descriptions of the people involved in the creative process of producing songs in recording sessions with such mega-artists from James Brown and Ricky Martin to Lady Gaga, Beyoncé and Jennifer Lopez. Maserati transforms these stories into life lessons and expert advice for aspiring recording professionals, including info on technical processes, gear and more.

Other content on the horizon will come from Pensado's Place hosts Dave Pensado and Herb Trawick, Usher's New Look Foundation, Yeuda Ben-Atar (Ableton-certified trainer, Beat Lab Academy founder), Bobby Borg (noted educator and author) and others. The publishing power and credibility of Hal Leonard, the leading publisher of books and digital content on the music business, offers Pensado's Strive the unparalleled ability to reach a global network of traditional and online resellers as well as educational markets. The Strive titles are not limited to audio/visual media, but will also be disseminated in multiple formats such as books and online enhanced digital print.

Hal Leonard Group Publisher John Cerullo remarked, "We are very proud to launch this first set of titles in the Pensado's Strive series. Our authors are motivated in sharing their gifts with the next generation of talented audio professionals, and these courses really knock it out of the park. We look forward to our users digging into these fun and informative sessions, as well as the future titles in the series. It is very exciting for Hal Leonard to be involved in this program, and we anticipate great things moving forward."
More information: Pensado's Strive