Font Tester – an online font comparison tool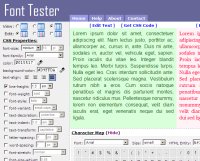 Font Tester is a free online font comparison tool. You can compare different fonts side by side (up to 3 columns) on the fly. Once you find the style you want you can easily copy the CSS code. Font Tester also features a real-time color picker for selecting the font and background colors.
To learn how to use all the features of Font Tester, step-by-step instructions are provided.