Geotagging with Zonetag and Bluetooth GPS
A few weeks ago Flickr introduced mapping features which enable users to easily 'geotag' their photos. Tom Coates wrote up a nice tutorial on how to automatically geotag photos with your phone.
From the article on Plasticbag.org:
But what if there was a way to automatically geotag your photos as you were taking them and with an accuracy of a few metres? What if the same tool also let you upload your photos while you were walking around town and could also provide you with good privacy options and tag suggestions? When you spotted a nice bit of graffiti or a book about superheroes, you'd be able to take a picture on the spot and have people in the area see it on the map within moments.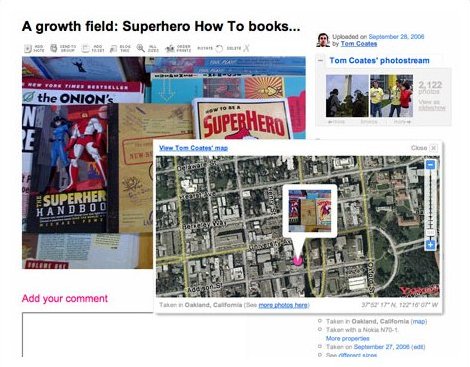 A geotagged photo on Tom Coates' Flickr
Yes indeed that is cool! A reader also mentions you can use a GPS device to geotag pictures made with a regular digital camera with GPSTagr.