Get 50% off Heavy Impacts, Kellie Allen Vocal Sessions, Spectral Sessions & more at Prime Loops
Prime Loops has launched a new round of Weekly Deals, offering a 50% discount on 6 of its sample packs.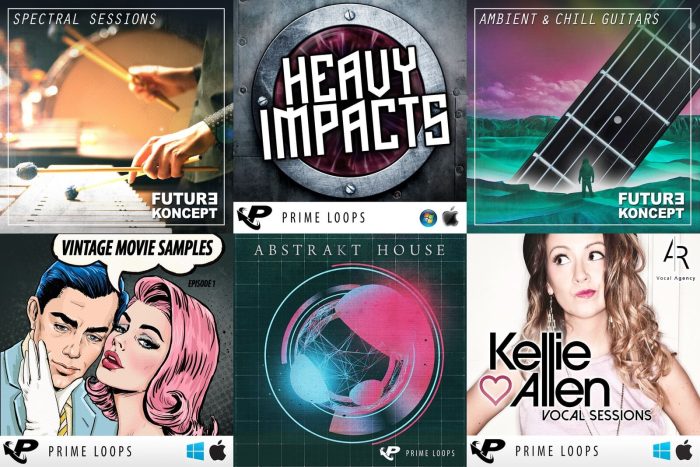 Save an epic 50% on 6 of our most popular Sound Packs, featuring Chill Guitars, Heavy SFX, Vintage Movies Samples, Abstrakt House, Kellie Allen Vocals & Spectral Sessions!
Prime Loops Deals
Heavy Impacts – 270MB+ of hard hitting Impact Sounds, huge FX, epic subs, metal hit samples & cinematic sound effects to add some serious punch to your productions or scores.
Kellie Allen Vocal Sessions – Download a whopping 1.36GB of pristine, professionally recorded female vocal samples. Featuring epic choruses, lush harmonies, smooth verses and extra ad-libs, perfect for a huge range of musical styles.
Spectral Sessions – 859MB+ of melodic, glitched out, experimental electronic and live instrument samples, including Synths, Rhodes, Piano, Glockenspiel, Guitars, Bass Guitars, Clarinets & much more.
Vintage Movie Samples: Episode 1 – 500+ painstakingly sampled vintage movie vocals & dialogues, download 559MB+ of original old school movie action, only available from Prime Loops.
Abstrakt House – 705MB+ of unique House & Electronica Samples and Presets, featuring Organic Basses, Textured Synths, Shuffled Drums, Dark Atmos, MIDIs, ready-arranged Sampler Instruments and much more.
Ambient & Chill Guitars – Over 1.5GB of expertly recorded ambient and chilled out Guitar Loops & Samples, including Chord Progressions, Licks, Lead Melodies and more.
The sample packs are available at 50% off for a limited time only.
More information: Prime Loops / Deals of the Week
Prime Loops is offering up to 75% off a huge selection of samples and synth presets in its Summer Sale!