I Heart Tripods is a remarkable site by Sonia Zjawinski, whose dog Lulu suffered bone cancer and had to undergo amputation of her left hind leg. After all the procedures (surgery and chemo treatment) Sonia had bills to pay, $10,000 worth of bills…
Sonia writes:
I put everything on my credit cards without thinking twice, but once the bills starting coming in I realized I needed a plan. I asked my awesome friend Eric Siry to design a logo to put on T-Shirts and tote bags. The goal was to eliminate my debt; the dream was to make more than I need in order to help other animals and their owners who cannot afford expensive procedures and treatments. We've reached our dream! But now we're looking to sell even more shirts so we can start handing out checks to those in need. Buy something from the tripod store and show your support for all animals — four, three, two, and even one-legged!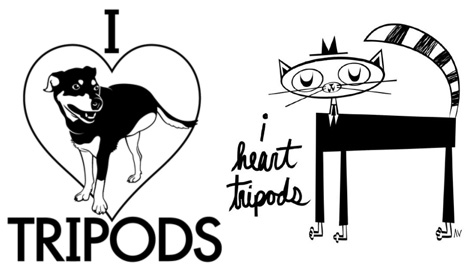 I Heart Tripods T-Shirt designs
So, if you want to support this cool project, just head on over to the Tripod store and buy something.
Link via core77