Iconfactory freebie: Polar Express
Iconfactory has released The Polar Express, Iconfactory artist Anthony Piraino's latest freeware release, based on the 2004 film version of the story.
"On Christmas Eve many years ago, I lay quietly in my bed. I did not rustle the sheets. I breathed slowly and silently. I was listening for a sound – a sound a friend had told me I'd never hear – the ringing bells of Santa's sleigh." So begins Chris Van Allsburg's classic tale of wonder, belief, and a trip to the North Pole.
Perfect for the Christmas season!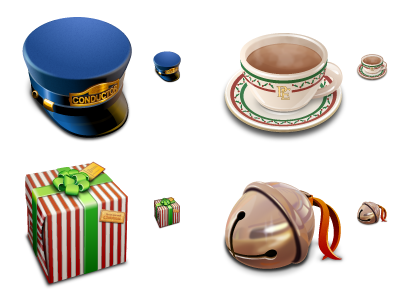 The Polar Express (by Anthony Piraino)
The collection contains 6 individual icons and is built with large resources for Windows Vista.
Visit Iconfactory for more information and a link to download the The Polar Express.