IK Multimedia releases Miroslav Philharmonik Mobile Edition for SampleTank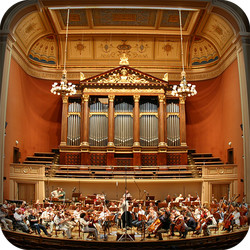 IK Multimedia has announced the release of Miroslav Philharmonik – Mobile Edition, a downloadable, pro-quality orchestral and choir sound collection featuring sounds from the popular Miroslav Philharmonik virtual instrument for Windows and Mac.
The Miroslav Philharmonik – Mobile Edition for SampleTank mobile is available as an in-app purchase. These famous orchestral instrument sounds and textures have been heard in hundreds of Hollywood movie scores, and in compositions from some of the top performing pros. Miroslav Philharmonik features instruments that were beautifully recorded at the Dvorák Symphony Hall in Prague by Miroslav Vitous with the Czech Philharmonic Orchestra, and these sounds have a texture, warmth, and beauty that is considered "the standard" and unrivalled in the virtual instrument world.

The Miroslav Philharmonik – Mobile Edition for SampleTank includes 100 orchestral sounds and textures with multiple instrument performance styles, including 5 orchestral ensembles, 39 string instrument sounds (violin, viola, contrabass, cello and harp), 15 brass instrument sounds (trumpet, trombone, French horn and tuba), 12 woodwind instrument sounds (flute, bass flute, piccolo, clarinet, bass clarinet, oboe and bassoon), 4 vocal choir ensembles, 1 cathedral organ instrument sound, 1 celesta sound set, 10 orchestral synth pads, and 13 orchestral percussion sounds.

The Miroslav Philharmonik – Mobile Edition is the first downloadable collection for SampleTank, but it won't be the last. The ability to download data into SampleTank opens up a whole new area of expandability, and more collections will be available in the future. The download process is easy: open SampleTank app, open the Menu, choose Store, choose Sound Collections, and then purchase and download the collection. Get the Miroslav Philharmonik – Mobile Edition and elevate your iOS music production to a whole new level.
SampleTank 1.6 for iPhone, iPad and iPod touch is available now as a free update on the App Store. The Miroslav Philharmonik Collection is available as an in-app purchase for $19.99 USD / 17.99 EUR. Additional instrument collections will also be available soon via in-app purchase.
More information: IK Multimedia