Image-Line updates FL Studio to v9.1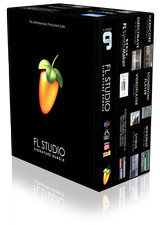 Image-Line has released version 9.1 of FL Studio, a digital audio workstation software for Windows.
Changes in FL Studio v9.1
Added "realtime" flag support (useful for hardware-supported plugins).
Browser's F5/F6 (or extra mouse buttons, or ENTER or middle click) now sends to the focused plugin (or the selected channel if there's none) (handy for testing files in effects).
Edison/Slicex: original sample filename now stored in states/projects (to remember the last file loaded).
MIDI import dialog doesn't show for MIDI files with only 1 track & 1 channel.
Right-clicking piano roll's channel selector brings the channel settings and plugin editor.
Added MP3 export to Edison.
Edison (paxCompiler-powered) scripts now support Javascript & Basic.
Changed 'Select' to 'Replace' in effect plugin menu when there's already an effect loaded.
Improved tempo fitting dialog in playlist.
Edison: added "send to playlist as audio clip" shortcut button.
An empty name in the channel grouping edit now sends to the unsorted group.
Changed the method used by assisted PDC a little.
New "PDC for all tracks" helper for PDC.
Improved hovering of contiguous piano roll notes/playlist clips that are grouped or selected.
F2 in name editor cycles through random colors.
New Harmless synthesizer.
New Fruity Convolver effect.
Piano roll note color selector can show special color names for some generators.
Improved meters everywhere.
FPC: added "Show in browser" option to loop menu.
Wrapper: added button to update plugin properties.
Wrapper: indicate if note message is realtime or not (VST & VST3).
Wrapper: some more speed when copying interlaced to separated buffers and back.
Wrapper: store plugin filename, use it to find the plugin when loading settings.
Synthmaker: updated to version 1.1.7.
Fixed wrongly reported latency in Vocodex.
Fixed broken filter tool in envelope editor (in all plugins).
Fixed little bug in playlist "merge pattern clips".
Fixed crash in some rare cases when replacing & plugin that has an event being edited in a piano roll.
DirectWave: fixed loading old states saved with total recall.
DirectWave: save wave files before saving the .dwp file.
DirectWave: now responds to FL max polyphony value.
DirectWave: no more drag and drop of foreign formats in DW Player.
DirectWave: "Save program" now shows a dialog window if the filename isn't valid.
DirectWave: minimize lock when loading of settings.
DirectWave: update browser after saving a program or bank.
Downloader: works correctly with unicode characters in filenames.
FL ReWire: fixed crash when closing ProTools with FL loaded.
FPC: show options menu when you click on the pad name label.
FPC: selected layer is now remembered when window is hidden, shown and resized.
FPC: fixed root path for loop files.
Fruity Envelope Controller: small fix in envelope editor.
Wrapper: adjusted pitch bend range selector.
Wrapper: pitch bend range is now saved with other plugin options.
Wrapper: rescan plugin properties adter loading settings.
Wrapper: fixed freeze with Fruity Delay.
Wrapper: re-implemented loop position calculation.
Synthmaker: fixed a problem where SM windows could appear massively oversized after loading.
Check the FL Studio Guru blog for a video with some key new features.
FL Studio is available to purchase for Windows PC, starting at $49 USD. New Image-Line customers get 10% discount on their first order of $90 USD or more with this promo link.
More information: Image-Line / FL Studio