Note: this post is from 2009, outbound links may be broken.
Imperfect Samples Summer Group Buy
Related:
group buy
,
Imperfect Samples
,
piano
,
promo
,
samples and sound libraries
Posted in
news
,
promo
on Aug 11, 2009 -
0 comments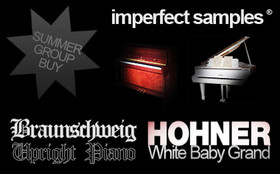 Imperfect Samples is having a Summer Group Buy.
Until August 21, 2009, you have the chance to get up to 50% discount on all Imperfect Samples products.
To join the Group Buy, make a purchase in the Imperfect Samples Group Buy Store (below), with the 50% maximum discount. You have then entered the Group Buy. When 81 entries are reached the 50% discount applies for all buyers and you don't have to make an additional payment. If the 81 buyers are not reached at the end of the Group Buy, you will have to make an additional payment. This payment will be the difference between the lowest price you paid and the actual discount price.

You can buy as many products as you like. By joining a group buy you agree to wait until the end of the group buy OR when highest level is reached (+81 buyers),before receiving the product(s) and make the final payment if needed. If you would like your product now, purchase using the standard Imperfect Samples Store.
Summer Group Buy levels
0 – 25 Buyers: 10 % Discount
26 – 50 Buyers: 20% Discount
51 – 75 Buyers: 30 % Discount
76 – 80 Buyers: 40% Discount
81 Buyers or More….. 50% Discount
More information: Imperfect Samples Summer Group Buy