Is the world flat or round?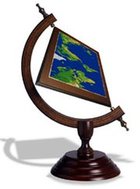 Have you ever had someone ask you a simple question, and you find out you've never really thought about that particular issue and don't really know the answer?
One of the co-hosts of The View, Sherri Sheppherd, said she didn't believe in evolution so co-host Whoopi Goldberg asked her if she believed the world was flat or round.
The video here, including a partial transcript.
Crazy, you'd think something like this is common knowledge.
Link via BoingBoing