iXimix releases LiveRemote iOS control surface for Ableton Live
Related:
Ableton
,
controller
,
iOS
,
iPad
,
iPhone
,
iXimix
,
MIDI
,
mixer
,
software
Posted in
news
on Jun 08, 2011 -
0 comments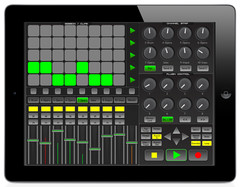 iXimix has released LiveRemote is a dedicated Midi Control system for Ableton Live.
Kiss goodbye to your mouse and keyboard, and let your fingertips do the work with LiveRemote.

LiveRemote connects to Ableton via CoreMidi networking technology with incredibly low latency of between 1-3ms. Control your session from the comfort of your couch, or whilst walking around the room.
iXimix features
Mixer:

Control up to 8 faders at a time + the Master with solo, mute, record also available.
High Resolution Precise meter readings of the audible decibels for each channel.

Clip Launcher:

Launch clips direct from your device, using the 8*5 matrix.
Launch scenes, or stop them at any time.
Move around your session easily with the control arrows, the clip launcher will activate any clips that are within the red box highlighted in Live.

Channel Strip:

For each channel you have precise and fast control on the pan and upto 3 send channels.

Plugin Control:

Simply and easily control the plugins for each selected channel, LiveRemote automaps the available controls of the selected device.

Transport Control:

All the necessary transport controls such as Play, Record, Stop etc are implemented for quick, on the fly recording.

iXimix for iOS is available to purchase for iPhone for $5.99 USD/£3.49 GBP/4.99 EUR. The iPad version is $9.99 USD/£5.99 GBP/7.99 EUR.

More information: iXimix / LiveRemote