J74 updates Progressive Chord Progression & Harmonic Editing tools to v3.6
Fabrizio Poce of has released version 3.6 of the J74 Progressive the tool set for Chord Progression and Harmonic Editing for Ableton, and J74 Progressive SE, the standalone edition MIDI desktop application.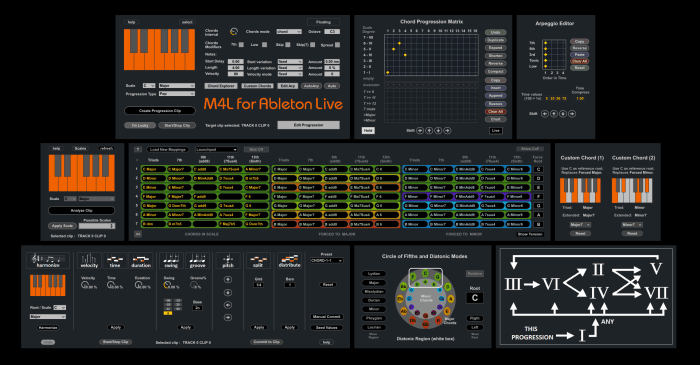 J74 Progressive is a set of Max for Live tools for Ableton Live specialized in chord progression making and harmonic editing. J74 Progressive allows you to create and edit chord progressions as MIDI clips, making use of composition techniques modelling (such as diatonic scale and chords exploration methods) as well as performance styles (arpeggio, humanized timing and dynamics).
Changes in Progressive / Progressive SE v3.6
Enhancements to Circle of Fifths view and to the Chord Explorer:

Added support for chord testing directly in the Circle of Fifths view.
Added visualization of chord tension in the Circle of Fifths view.
Added support for chord sequencing by MIDI input to the Chord Explorer.
J74 Progressive for Ableton Live is available for 15 EUR; J74 Progressive SE is 10 EUR. Prices ex. VAT.
More information: Fabrizio Poce / J74 Progressive