Note: this post is from 2009, outbound links may be broken.
LinPlug updates RMV to v5.0.5 and Organ 3 and Alpha to v3.2
Related:
AU
,
instrument plugins
,
LinPlug
,
RTAS
,
VST
Posted in
news
on Dec 03, 2009 -
0 comments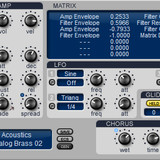 LinPlug has released version 5.0.5 of virtual drum instrument RMV, and version 3.2 of Organ 3 and Alpha, two virtual synthesizer instruments for PC and Mac.
Now available: Alpha, Organ 3 and RM V for Windows 7, both 32 bit and 64 bit, and OSX 10.6

Alpha is the first of our instruments finally also available on PC as 64 bit version to natively run in 64 bit hosts without bridging.
Changes in RMV v5.0.5 / Organ 3 & Alpha v3.2
Mac OSX 10.6 compatibility
Improved Windows Vista compatibility
Windows 7 compatibility
Improved Digital Performer compatibility
Native 64 bit version for PC available
Fixed Edit All not working when switching Loop Page [RMV]
Fixed trigger value display not being correct [RMV]
Fixed sample or slice start/end not editable [RMV]
Fixed previewed sample could still be triggered after preview ended [RMV]
Improved stability in Sonar & Reaper [RMV]
New feature next/prev/first/last switches in pads sample windows [RMV]
Fixed GUI issues not showing right percussion or vibrato setting [Organ 3]
Fixed program change issues [Alpha]
More information: LinPlug