makunouchi bento releases free pack of lo-fi ringtones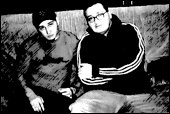 makunouchi bento and OTAKU Magazine have teamed up to release 10 retrogaming ringtones, a free pack of ringtone samples.
10 retrogaming ringtones features
10 frantic lo-fi ringtones (loopable).
inspired by retro console games (invaders, pacman & co.).
composed by makunouchi bento for OTAKU Magazine.
format: various (mono) – aac/mmf/64kbit & 128mbit mp3/wma.
You can download the samples here.