Masquerade: Knit graffiti in Sweden
If you're ever in Stockholm, Sweden, you might run into one of Masquearde's knit graffiti pieces.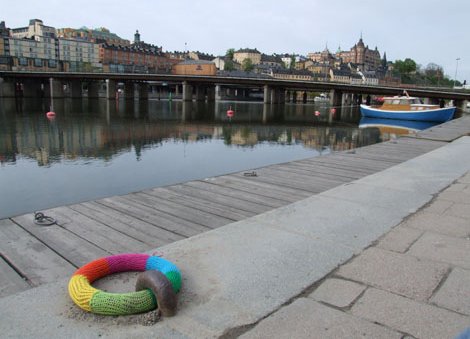 Masquerade: A ring tagged with colorful knit graffiti
They even made a tourist map so you know where to find these little works of street art.
We have marked a yarn graffiti trail for you, to guide you to the most charming, delightful, magnificent, pleasant and stunning places in this city.
Pretty and quite harmless! Visit Flickr for more images of Masquerade.
Also check Knitta, another tag crew of knitters, bombing the inner city with vibrant, stitched works of art, wrapped around everything from beer bottles on easy nights to public monuments and utility poles on more ambitious outings.
Link via MakeZine