McDSP announces 6030 Ultimate Compressor, Audio Units Support, and Classic Pack update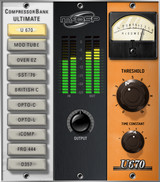 McDSP has announced it will show some new and upgraded products at the 2010 Winter NAMM Show, including the all-new 6030 Ultimate Compressor.
McDSP has turned up the notch of dynamic range processing once again. Building on the entire award winning McDSP compression algorithm code base, the 6030 Ultimate Compressor adds new sonic capabilities, stunning new user interfaces and a collection of new designs mixed with unique twists on vintage emulations. The 6030 Ultimate Compressor will be available in May of 2010 (pricing TBD). The 6030 Ultimate Compressor will also be added to the Emerald Pack bundle, available to Emerald Pack 4 customers as an upgrade (pricing TBD).
McDSP will also show AU versions of some of its product line and updated Classic Pack plug-ins (including Analog Channel, CompressorBank, FilterBank and MC2000) at the 2010 Winter NAMM Show.
McDSP plans to ship new updated versions of its entire product line by May of 2010 with TDM, RTAS and AU support.
More information: McDSP