Note: this post is from 2007, outbound links may be broken.
ME BIKE – The Dream Bike Festival 2007
Related:
art
,
bicycles
,
design
,
graffiti
,
random posts
,
sculptures
,
Simpsons
Posted in
random posts
on Jul 26, 2007 -
1 comment
ME BIKE – The Dream Bike Festival highlights the question: How do artists envision their dream bike?

From the ME BIKE website:
The Dream Bike concept is based on a Simpson's episode where homers brother asked him to build his dream car which he calls the "Homer", Homer adds all sorts of weird effect like bubble domes, fins and several horns that play "La Cucaracha"…

This year in Amsterdam style, over fifty international and nation artists, bike lovers, bike designers and bike riders, will bring their own dream bike to the ME BIKE – THE DREAM BIKE FESTIVAL at the Carhartt Store and the Westergasterrein in Amsterdam.
So, if you're in Amsterdam this weekend, it might be cool to join the Dream Bike Festival and check out expositions of real bikes, paintings, sculptures and installations. There will be a BMX presentations, a children's parcour, a big live painting session, outdoor and indoor cinema and lots more.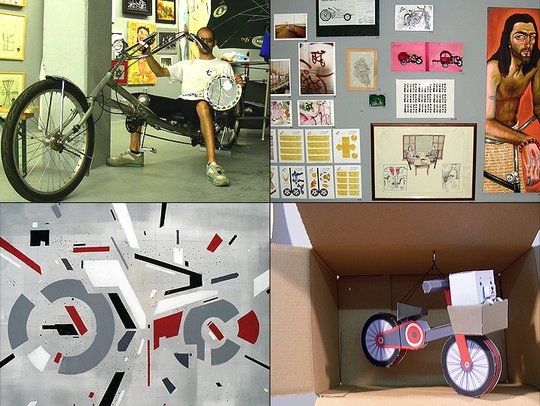 Some images from the 2006 ME BIKE – THE DREAM BIKE PROJECT
There's a big city for everyone on Saturday (5.30pm) so bring your own bike and you can join.
On Sunday there are is a Graffiti-Streetart-Tour around the area, more BMX presentations and the ME BIKE – The Dream Bike Awards for the categories "Best of Show", "Most Creative Design" and "Worst of Show".
For more details, check the ME BIKE website.