MIDI controlled Flash animations
Fred Leighton @ artsdigital.com has an article on how to set up an environment to have Dynamic Live Flash animation via MIDI and Game Controllers.
The user interface is a Mad Catz Playstation 2 game controller and the UC-33e Evolution MIDI controller by m-Audio. The computer is an Apple iMac G5 with 1.8 GHz processor and 1.5 GB of RAM. The MIDI and game controller signal data is sent to Flash (.swf) files being played through the stand-alone Flash Player, utilizing ActionScript 2.0 code in Flash 8 via MAX/MSP 4.6 software. An LCD projector and sound system are the final destination outputs.
Check out this 15 minute performance with sound – (excerpt from my MFA thesis exhibition from November 4, 2005, Orleans Hall, Savannah GA).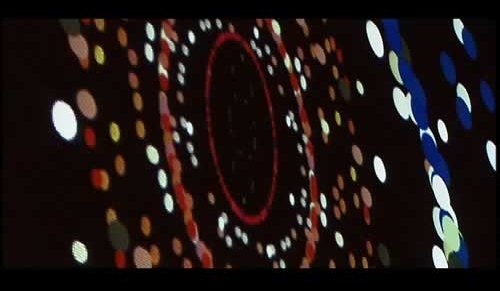 Still from Fred Leighton's MFA thesis exhibition
Visit artsdigital.com for more information and detailed instructions on what you need to set up something simular yourself.