MOTU Digital Performer 7.2, update brings Themes and more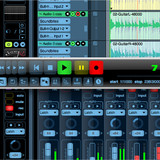 MOTU has announced it is now shipping Digital Performer 7.2, a free update for all DP7 users now available for immediate download at motu.com.
Version 7.2 adds new features and enhancements, including Themes (skins), which allow users to completely change the look and feel of Digital Performer's entire user interface with one click.

"Digital Performer is renowned for its carefully-crafted look and feel," said Jim Cooper, MOTU Director of Marketing. "So we didn't just put in a lightness/darkness slider or different shades of background color. Instead, DP users can choose from more than a dozen meticulously designed themes, which power-users can go in and tweak as much as they want. Buttons, knobs, and other controls can look completely different in each theme."
Changes in Digital Performer 7.2
Themes

— Completely change the look and feel of Digital Performer's entire user interface with one click. Choose themes such as Carbon Fiber, Zen, Plasma, and Producer. Fine-tune waveform display colors and customize your own multi-gradient level meters in the Mixing Board. Ultimate customization never looked so good.

Live search

— Quickly zero in on an audio clip, custom key command, or other list item in just seconds by simply typing the name of what you are looking for. The list updates as you type, immediately showing any items that match your search.

Right-click menus

— Become a DP power user with one right-click of your multi-button mouse. Digital Performer's essential operations for any window, edit grid, or list view are now just a click away. You'll fly through your DP workflow like never before.
Digital Performer 7.2 is now shipping and available as a free download to registered Version 7 users.
More information: MOTU / Digital Performer 7