Muse Research announces USB Plugsound Box collection for Receptor 2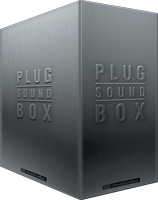 Muse Research has announced that its Receptor 2 hardware plug-in player will now ship with the USB Plugsound Box collection by Univer Sons / Ultimate Sound Bank.
The Plugsound BOX collection features 6 superb virtual instruments covering a wide range of sounds and styles, including fretted instruments, keyboards, synthesizers, General MIDI instruments, drums and percussion, and Hip Hop sound sets. The collection, which originally sold for hundreds of dollars, is now FREE with each standard RECEPTOR 2 PRO & RECEPTOR 2 PRO MAX.
USB Plugsound Box features
Visit Muse Research for more information.