Note: this post is from 2006, outbound links may be broken.
Musical instruments made of LEGO
Related:
DIY
,
dulcimer
,
guitar
,
harpsichord
,
LEGO
,
random posts
,
robot
,
toys
Posted in
random posts
on Aug 08, 2006 -
0 comments

This website has some pictures of a guitar constructed entirely out of LEGO pieces.
The guitar was actually playable, but the 'truss rod' for the back was not sturdy enough to handle the string tension for long which is why there are no strings in the pics.
It took Henry Lim 2 years to complete a Harpsichord model.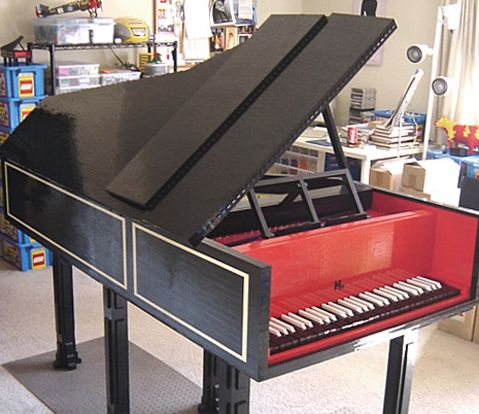 Approximately 100,000 LEGO pieces were used to build this instrument. Four colours: black, red, tan, and white. Looks awesome!
Some other instruments are Peter Alway's LEGO Dulcimer, and XILO by J.P. Brown, a device that plays music by striking chromed metal tubes according to your movements.
LEGO can also be used to play actual instruments, like the ukelele playing robots here and here.
Does anybody know of some more?