Mutools MU.LAB, music application updated to v3.2.5
Related:
host
,
MIDI
,
Mutools
,
recording
,
sampler
,
sequencer
,
software
,
VST
Posted in
news
on Jan 17, 2011 -
0 comments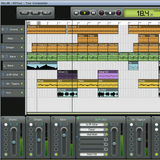 Mutools has released version 3.2.5 of MU.LAB, a hi-quality music application for Mac and Windows, transforming your computer into a complete music studio.
Highlights in MU.LAB v3.2.5
Fixed: Sonic bug when re-loading preset loop info from AIFF or WAVE files.
Fixed: Some changes of 3.2.4 where not properly compiled into the OSX version.
More smooth level meters. (v3.2.4)
Added a "Refresh Overview" shortcut function for audio files for in case it's needed. (v3.2.4)
Fine tuned the conditions for when an audio file overview should be recreated. (v3.2.4)
"Reset Graphic Resources" now is a shortcuttable application context function. This is only relevant to skin developers. (v3.2.4)
Fixed: When loading AIFF or WAVE files, any preset loop is properly applied. (v3.2.4)
Fixed: When doing Audio Setup->Select Inputs/Outputs when the device had more than 32 ins/outs, there could be a crash. (v3.2.4)
Fixed: When opening a Rack editor while this rack was also visible in the Rack Desk, there could be a graphical issue with the level meter. (v3.2.4)
Fixed: When your system was already up and running for weeks without restart, there could be a graphical animation problem. (v3.2.4)
Fixed: Fixed a case where denormalizations could occur. (v3.2.4)
MU.LAB is available in three versions: MU.LAB FREE (free of charge), MU.LAB XT (25 EUR) and MU.LAB UL (75 EUR).
More information: Mutools