Note: this post is from 2007, outbound links may be broken.
Nicer Windows with Pitaschio
Related:
Microsoft
,
random posts
Posted in
random posts
on May 22, 2007 -
0 comments

If you find the window manipulation features of Microsoft Windows a bit lacking, you might want to try Pitaschio (freeware).
Pitaschio includes a large number of useful functions.
Stick window to other windows when moving and resizing
Restrict window position to inside of the screen
Minimize window to system tray
Use small icons in the desktop
Disable Windows key, Insert key, Alt key etc.
Lock mouse or keyboard while you are cleaning keyboard or mouse
Take statistics about mouse and keyboard
Calculate Moon's age
Pitaschio is a essential tool to use windows efficiently
You can even use Pitaschio to generate passwords.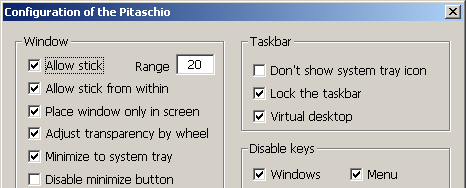 Pitaschio configuration screen (click to see full dialog)
One of the features I enjoyed is mouse scrolling on a window's title bar, which lets you change the transparency.
Just give it a try and download Pitaschio. If you don't like it you can simple delete the files and forget about it.
Link via Download Squad