Note: this post is from 2007, outbound links may be broken.
Nintendo announces Wii Music
Related:
games
,
instruments
,
music
,
orchestra
,
random posts
,
Wii
Posted in
random posts
on Oct 15, 2007 -
3 comments
Nintendo has announced Wii Music, allowing you and up to three of your friends to control an entire band or orchestra, featuring 40 instruments to choose from.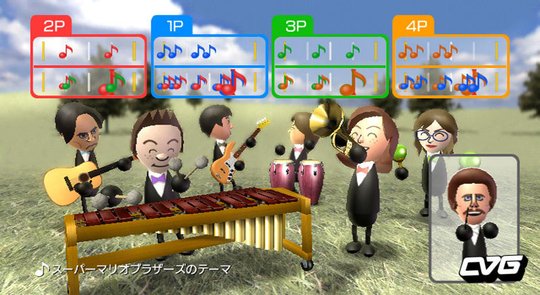 Wii Music screenshot from
CVG
Players will use the Nunchucks and Wiimote to control the musicians with this possible Guitar Hero killer. This game is going to be hit or miss. It'll either sell by the truck load or it won't sell.
In single-player you can either control the whole band or have the CPU fill up the extra slots, and of course four-player multiplayer is the biggest touting point.
Wii Music is due in Japan next year.
Link via CVG