Onlinemasteringstudio.eu releases ProMixEQ-10A free equalizer plugin
Online mix and mastering studio Onlinemasteringstudio.eu has announced the release of EU ProMixEQ-10A, a free high quality precise mixing equalizer by Marian Brezekhiel Brezovan.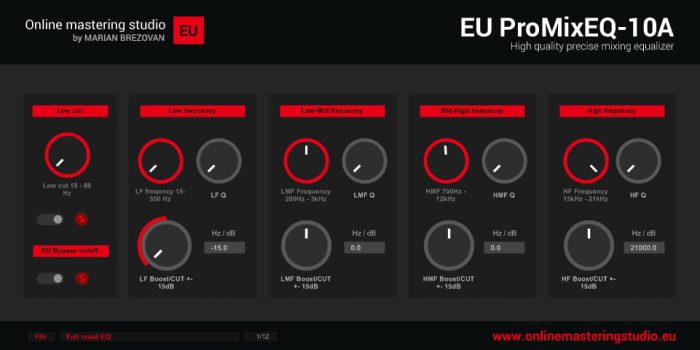 Onlinemasteringstudio.eu is complex of mix and mastering studios specialized in electronic dance music (edm, house, techno, psytrance, drum & bass, dubstep) mainstream genres (pop, hip-hop) as well as indie-alternative music. Studios are equipped with hi-end analog and digital equipment of renowned brands + custom / modified gear.

EU ProMixEQ-10A is VST plug-in mixing equalizer designed by Marian Brezekhiel Brezovan, who has more than 10 years of experiences with DSP coding / plug-in development.

EU ProMixEQ-10A is designed to produce precise musically sounding tones with minimum coloration, artifacts and harshness of sound, ideal as main mixing equalizer for individual instruments / tracks. Equalizer uses latest available technologies (DSP codes) of EQ/Filter virtual circuits to provide clean, high resolution sound.
ProMixEQ-10A features
Low cut filter: 18-60Hz with bypass option.
Low frequency BP EQ: 15-500Hz, Boost/Cut +- 15dB, wide Q 0.1 – 0.9.
Low-mid frequency BP EQ: 200Hz-3kHz, Boost/Cut +- 15dB, wide Q 0.1 – 0.9.
Mid-high frequency BP EQ: 700Hz-12kHz, Boost/Cut +- 15dB, wide Q 0.1 – 0.9.
High frequency BP EQ: 15kHz-21kHz, Boost/Cut +- 15dB, wide Q 0.1 – 0.9.
EQ Bypass on/off and preset manager with 12 example presets.
EU ProMixEQ-10A is available as a free download for Windows (32-bit VST).
More information: Onlinemasteringstudio.eu / ProMixEQ-10A