Optimus Prime Paper Model
PaperRobots1999.com has building instructions for some cool fully-articulated-free-paper-action-figures.
The year is 1999. The millennium is almost upon us. Y2K lurks around every corner, threatening to take over our computers and destroy all our technology. And when it does, paper robots will rule the earth.
Available models (can be downloaded as PDF files) include Magnus Style Prime and Optimus Prime.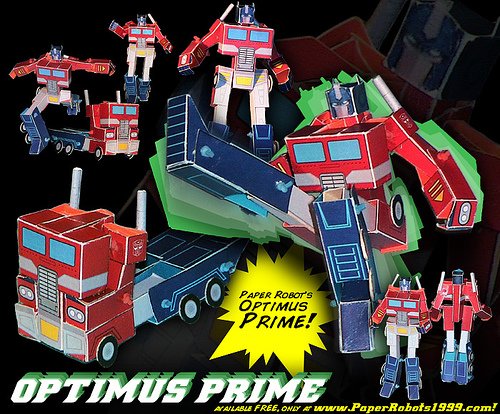 Optimus Prime by PaperRobots1999.com
You'll still have to wait a few months until the Transformers movie is out (check these new images), so in the meantime you can keep yourself busy creating your own Optimus Prime model.
Check PaperRobots1999's photos on Flickr. I hope they'll make a Megatron model soon!
More information: Paper Robots 1999