Pink2412 & Pink7236 compressor plugins by Acustica Audio
Acustica Audio has launched Pink2412 and Pink7236, two compressor effect plugins for Windows and Mac.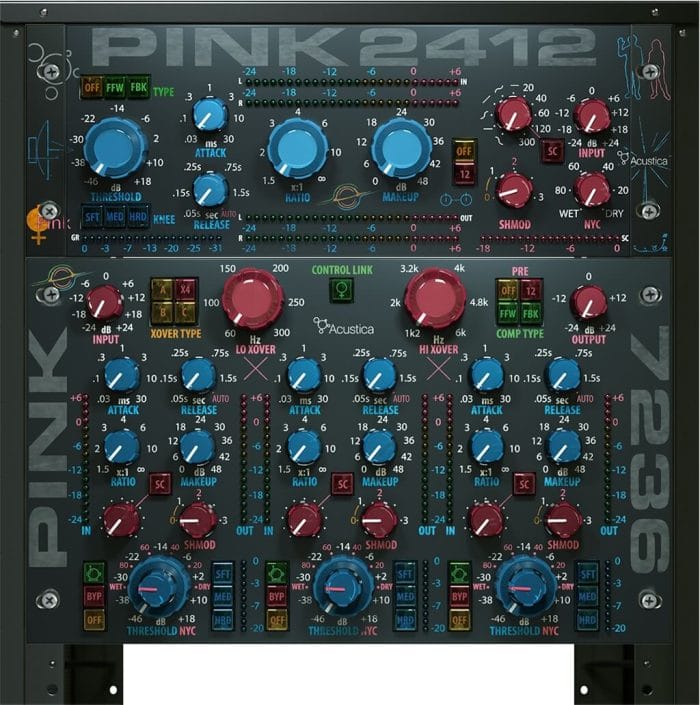 Pink2412 compressor is derived directly from Pink channel-strip plug-in, but it has been re-designed and upgraded by introducing new important features, that you rarely find in other products. Pink7236 multiband compressor is derived directly from Pink channel-strip plug-in and Pink2412 compressor plug-in.
Pink2412 & Pink7236 features
SHMod, an adjustable attack behaviour shape control that allows you to fine-tune the attack shape for customise Pink2412 compressor attack behaviour for any audio source.
SC, continuously variable side-chain filter including a tilt EQ, Pink channel-strip curve, and HPF from 20 Hz to 300 Hz.
NYC, parallel compression control for mix dry source with compressed audio.
Triple cross-over filters, including digital type from Titanium multiband compressor, analog type from Ivory series, and "Jolly" home-brew custom type built and sampled especially for this multiband compressor (Pink7236 only).
Both compressors use the CORE8 audio engine, a revolutionary multithreading technology by Acustica Audio that optimize performance of Acqua Effects plug-ins.
Pink2412 and Pink7236 for Windows and Mac (VST/AU/AAX) are available for pre-order.
More information: Acustica Audio