Pink Tentacle reports about amazing works of art created from rice fields.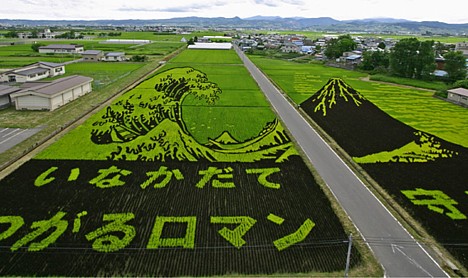 36 Views of Mount Fuji
From the article:
Each year, farmers in the town of Inakadate in Aomori prefecture create works of crop art by growing a little purple and yellow-leafed kodaimai rice along with their local green-leafed tsugaru-roman variety. This year's creation — a pair of grassy reproductions of famous woodblock prints from Hokusai's 36 Views of Mount Fuji — has begun to appear (above). It will be visible until the rice is harvested in September.
The residents of Inakadate have been drawing pictures with rice since 1993. Check Pink Tentacle and this site for more rice paintings.
Link via Boing Boing