Note: this post is from 2009, outbound links may be broken.
RME shipping Fireface UC
Related:
audio interface
,
firewire
,
hardware
,
preamp
,
RME
,
USB
Posted in
news
on Aug 31, 2009 -
0 comments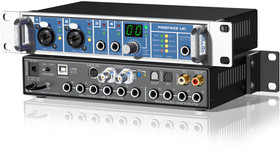 RME has announced it is now shipping the Fireface UC, a 36-channel USB 2.0 interface.
Based on a newly developed RME Hammerfall core, the RME Fireface UC provides revolutionary ultra-low latencies even with multiple audio channels and breaks performance restrictions of typical USB audio interfaces with sophisticated transfer technologies. It has been uncompromisingly optimized for highest performance under Windows and OSX with dedicated firmware versions for each platform.
Fireface UC features
Integrated DSP mixer — All inputs and outputs can be freely mixed, routed, and distributed with RME´s TotalMix software. Up to 9 totally independent stereo submixes can be set up. Every output channel, and every submix channel can be recorded directly and without external cable loops. TotalMix can be completely MIDI remote controlled. The DSP-based hardware calculates RMS and Peak levels for all channels, without causing any significant CPU load.
Analog I/O — Eight analog inputs and outputs (all balanced, except outputs 7/8) with software controlled reference levels (-10 dBV, +4 dBu, Lo/HiGain), realized discretely in the analog domain, ensure highest dynamic range and fidelity. Inputs 5 to 8 on the rear feature RME's proven level references, -10 dBV, +4 dBu and Lo Gain can be selected in the settings dialog, equivalent to +2 dBV, +13 dBu and +19 dBu for digital full scale. The same applies to the balanced rear analog outputs 1 to 6. The hi-power phones output offers high volumes even with low-impedance headphones.
Preamps — The Fireface UC features 2 balanced microphone inputs with a digitally controlled input stage, individually switchable 48V phantom power, and Neutrik Combo connectors for XLR and TRS. These can also be used as additional line inputs. A pre-amplification of up to 65 dB (adjustable in 1 dB-steps over a range of 55 dB), exceptional EIN (Equivalent Input Noise) performance even at low pre amplification settings, and extremely low THD+N let these preamps surpass many reference devices. All level settings are 100% reproducible and can also be comfortably adjusted by software. Inputs 3 and 4 are flexible universal balanced inputs. They operate exactly like inputs 5 to 8 on the rear and can be adjusted to accept standard studio input levels (+4 dBu, LoGain). The input impedance can be switched from line (10 kOhm) to instrument (470 kOhm), and offers an additional analog input amplification of up to 18 dB in steps of 0.5 dB.
Digital I/O — One ADAT I/O provides digital connection to mixers and converters. In combination with an ADI-8 DS/QS or OctaMic II, there are up to 16 analog inputs (respectively 12 @ 96 kHz). The coaxial SPDIF I/O (up to 192 kHz) is fully AES/EBU compatible. SPDIF can also be accessed through the optical I/O.
Word Clock & MIDI — A Word Clock input and output plus two MIDI I/Os (special breakout cable included) complete the list of features and turn the Fireface UC into an entire audio system of the highest quality.
More Features:

Sample rates up to 192 kHz on all I/Os (including 2 ADAT channels with SMUX4)
Two digitally controlled Mic Preamps in high-end quality
Two balanced universal inputs for line and instrument signals
SteadyClock for maximum jitter suppression and clock refresh
Enhanced stand-alone operation with rotary encoder and front panel display
TotalMix: 648-channel mixer with 42-bit internal resolution
54 Level Meter Peak/RMS, hardware-calculated
More information: RME