Roland updates Edirol R-09HR System Program to v2.0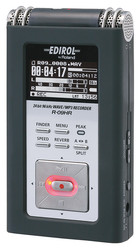 Roland has released version 2.0 of the system program for the Edirol R-09HR, a professional, high-definition recorder that travels light and performs like a heavyweight.
With crystal-clear 24/96 fidelity, the R-09HR is the new flagship of EDIROL's award-winning R-series recorders. The R-09HR is a part of the EDIROL group of field recorders.
New in Edirol R-09HR System Program v2.0
Added Self-Timer Recording function
Added File Divide and File Combine functions
Added Metronome function
Added Tuner function
More information: Roland / Edirol R-09HR