Score for a Hole in the Ground
The music of sound has an interesting post about some of the works of Jem Finer, one of the founding members of the Pogues.
Tim writes:
Since leaving the band in 1996 he has gone on to develop some inspired sound art & installations, including a piece of music, appropriately called Longplayer which is designed to play for 1,000 years without repetition.
One of his more recent projects is Score for a Hole in the Ground, an environmental sound installation in a forest in Ashford, Kent, UK.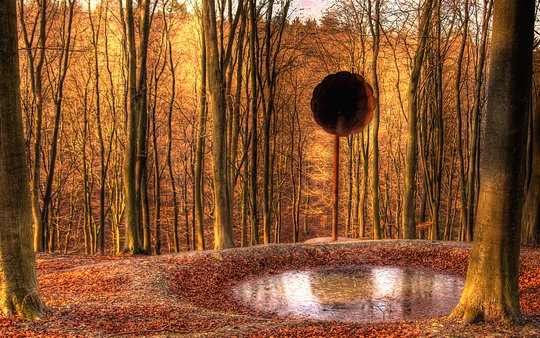 Score for a Hole in the Ground. Photograph by
Andy McGowan
(click image to enlarge)
Jem won the PRS Foundation New Music Award back in 2005. The prize was a sum of money with which to realise the project proposed as an entry to the competition.
You can read Jem's original proposal here. It reads:
In the temple gardens of Kyoto, suikinkutsu, water chimes, provide a meditive focus for the ambient sounds of the surroundings. Water, overflowing stone bowls, trickles down through a layer of loose packed stones until it drips into a buried bowl. The resonance of these drips is listened to through a bamboo tube or with the "naked ear". It is this attention to the subtle and beautiful timbres of the drips within the resonant chamber that hones the concentration of the listener.
This was the starting point for the Score for a Hole in the Ground project, a water driven musical instrument buried beneath the ground & amplified via a 7 meter high steel horn. As water slowly trickles into its sounding chamber, the drips hit metal splines creating percussive tones.
Check the Sound for a hole in the ground blog for more info, images and sound clips.