Short links for April 10th, 2008
Some interesting things I bookmarked on del.icio.us on April 10th, 2008:
# Scientists ask: Can you sing death metal without ruining you voice? – Dr Julian McGlashan from Queens Medical Center in Nottingham asks whether the non-melodic bits of singing – the grunting and growling that ranges from Bryan Adams gentle grit to the full death growl – can be performed safely without knackering your voice.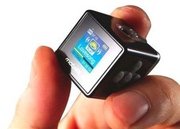 # Cube3 – A tiny (1"x1"x1") digital audio player with OLED color display. In addition to listening to music, you can now view digital images and watch video clips (magnifying glass sold separately…)
Cube3 features
Supports MP3, WMA, and "Protected" WMA (DRM)
PlaysForSure™ Certified – Compatible with music download and subscription-based sites.
Podcast Ready™ -enabled
View Digital Images and Watch Video Clips
Available in 2GB
Full Color OLED (Organic Light Emitting Diode) Display
Rechargeable Lithium Polymer Battery – 10 Hour Playtime
FM Tuner, FM Recording, and Voice Recording
SRS WOW HD (High Definition) and TruBass Sound Enhancement
High Quality SRS Designed Earbuds
Single Connector for Headphone, File Downloads, and Charging
# Build Your Own Electric Guitar! – Gbuilder writes: I have built several electric guitars over the years and through trial and error have learned many helpful tips that anyone who might want to tackle this sort of project needs to know before starting out.
# Psychosynth – a free software synthesizer inspired by the ideas of the Reactable.
# Teaser: ammoBox Project Digitally Scratches … What? – Nathan Ramella (co-creator of the Unofficial Ableton Live API) put Live and turntables together in a way you haven't seen before.
# Arduino and Silvia: Two Italians, One Tangled Affair – In this precisely hot affair, the Italian born microcontroller board, Arduino, has won the heart of a sensuous piece of Italian engineering named Silvia, an espresso machine by Rancilio.