Short links for April 18th, 2008
Some interesting things I found on April 18th, 2008:
# ammobox – remix.net – A combination of two techniques, HangTheDJ a universal vinyl time-code decoder, and ammobox:lite, a MIDI triggerable sampler.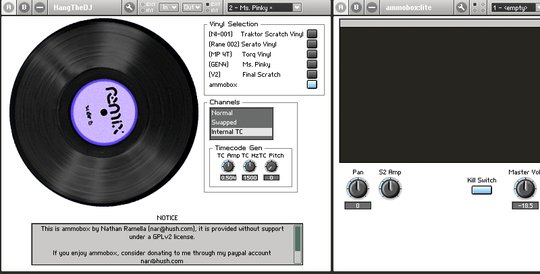 ammobox in Reaktor: HangTheDJ and ammobox:lite
Nathan explains on the NI forums:
The basic use is, hook your turntable up and play your time-code vinyl, and have HangTheDJ hooked up to sample the left and right channels, it will read the incoming audio streams and process them, it emits a couple signals that you can then use to drive other things, specifically the one most interesting for people will likely be the 'Spd' output, which is a float that represents the forward/backward speed of the record, ~+1.0 for 33rpm forward, ~-1.0 for 33rpm backwards, with of course ranges inbetween and higher and lower.
Link via CDM
# Two Minutes and 42 Seconds in Heaven by Joshua Allen – How many horn solos does it take to kill a perfect pop song? JOSHUA ALLEN applies science and taste to determine the exact best length—down to the second—for the platonic song, including a full mix tape of samples.
# The Most Unwanted Song – A couple of Russian-born conceptual artists had determined, via a poll of listeners, what the most unappealing kinds of music were — then created a piece embodying all of them.
# Tenori-On in America: US$1200, May 1, Limited Run – And limited means only about 100 units a month… so good luck getting one.