Short links for April 22nd, 2010
Some interesting things I found recently:
# The MIDI Piano Instructor : Gabriel Faure – Romanse sans parole
This is my MIDI piano instructor. This thing (top left in the picture) drives a bar of LEDs placed on top of a piano keyboard (electronic or regular). MIDI messages play a MIDI melody through the electronic piano or a MIDI box and also drive the MIDI piano instructor which turns on and off the LEDs according to the notes played.
More details at http://www.5volt.eu
# Electric Independence: Inside Devo's UFO Studio, They Whip It New Wave, But With New Hats
The new episode of Electric Independence documents a rare look inside Devo's studio. Mark Mothersbaugh himself gives us a tour through the space and shows us some of his favorite (and strangest) synths and circuit bending noisemakers. The guys even tell us some funny stories of their early Akron days, like the large girls (or "mother hens" as they like to call them) who would circle their equipment to warm it up before playing on those cold Ohio nights.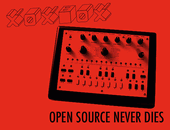 James Wilsey on Willzyx:
When the x0xb0x first came out in 2005 it was a exciting and unusual for a few reasons. First it was the first synth that really sounded like a TB-303, Second it was a Kit that you had to build yourself. Due to the cult status of the 303 a lot of musicians started getting into DIY just so they could get there hands on a x0xb0x. This was a boom to the DIY synthesizer community. After 5 years Adafruit has had a wildly successful run with the x0xb0x. Adafruit Industries shipped out 1,000 kits and there are countless others who self sourced there own. My goal is to keep the x0xb0x alive and relevant to the DIY community for years to come. We have an amazing project that was given to us by Adafruit Industries. I plan to keep the original spirit of sharing. In the coming months you will see more open source project's that are derived from the x0xb0x but not necessary tb-303 related. Transistorize the World!
via CDM
# aM laboratory Pulsate – Andre Michelle's Pulsate is a wonderful example how something simple can be stunningly beautiful. Love it!