Short links for April 29th, 2008
Some interesting things I found on April 29th, 2008:
# Slashbot: The Guitar Hero Robot – A robotic system capable of autonomously playing the video game Guitar Hero.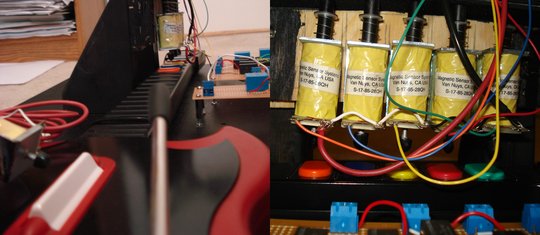 Slashbot – mounted guitar and the
fingers
(solenoid actuators).
How does it work? The brightness of a pixel from the PlayStation2's video signal is determined by the signal's voltage amplitude. Since the notes are the brightest images on the screen they can be detected by setting trigger points. Once a detection is made, a control signal is sent to the robot after a specific delay (determined by the tempo of the song).
# Wired.com Exclusive: Watch 'Wanderlust,' Björk's New 3-D Video – Instructions on how to make 3-D glasses included.
# NI Ends Legal Dispute Over Traktor Scratch; Digital Vinyl's Twisty, Turny History – As of Friday, it seems that the ongoing saga of a dispute over digital vinyl, beginning with the 2006 "divorce" of digital DJ titans Stanton Electronics and Native Instruments, may be over. NI released a statement Friday saying they had not only settled a US civil action patent case over their use of digital vinyl in Traktor Scratch, but had agreed to license the technology from N2IT Holdings, the US patent owners for digital DJing.
# DRUM MACHINE unplugged – YouTube video of a hand crancked drum machine. Matches are activating lever-matches by rotating the cylinder. Levermatches are kicking on several percussions. 4 Tracks.
# Dan McGrath's Subwoofer Project – Dan writes:
I decided recently that my home cinema system could do with a nice subwoofer, and rather than buy something, I thought I'd build myself one…
# How To Make Your Own Scratchpad – How to make your own scratchpad with a pizza box and a computer mouse.