Short links for April 7th, 2010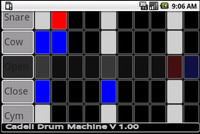 Some interesting things I found recently:
# Cadeli Drum Machine, a Drum Machine for Andoid:
You got 8 patterns of 8 tracks each.
Design drum patterns in a matrix, add accents to notes.
Pitch and Volume control on each track.
Tempo control.
Export drum patterns as wav files (mono/22khz).
Automatic electro/techno style pattern semi-randomly generated.
3 drumkits included (jungle, electro, accoustic)
# Help Us Fight Copyright Violations
Kid Nepro writes:

So I'm sitting at home, minding my own business when I get an e-mail from someone (I can't say exactly who) that goes on to tell me that there is an auction happening on ebay that has some of my sounds for sale. The e-mail went on to ask me if I knew anything about it.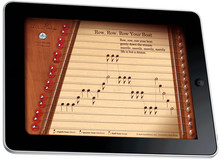 # The First Round of iPad Apps Is Here: Updated Round-up, More Thoughts
Peter Kirn takes a look at music apps for the Apple iPad:
I've completed my round-up of some of the most compelling music creation applications coming to iPad at or near launch: iPad Apps for Music Making: What's Coming, The Bigger Picture

The revised post includes some new videos and apps introduced over the weekend, so check out the full line-up. My thinking was that putting everything in one place makes it easier to find, and to get a sense of the … well, the bigger picture.
# Roland MC-307 "HipHop East" Loops
Cyberworm posted some new free samples:
45 loops (12 construction kits) sampled from Roland MC307. 65-93 BPM. wav format, 24 bit, 44100 hz, stereo, 62 mb
… and some more Roland samples, this time from the MC-303
# Dan303: Drums By 303. Free drum samples.
Clean and Vocoded one shot drum samples. The drums were taken from the roland MC303 groove box and vocoded using the built in vocoder on the Korg Microkorg.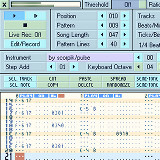 ProTrekkr (formerly known as NoiseTrekker by Juan Antonio Arguelles Rius aka Arguru) is a tracker program combining a software synthesizer together with a traditional samples tracker which can be used to create electronic music (like psytrance, trance goa, hard acid, IDM, chip, techno, etc.) for small sized intros, demos or games.
Currently the tracker is supported on Windows, Linux, AmigaOS4, AROS and Mac OSX.
# MOON8 – 8-bit version of Dark Side of the Moon.
Have you ever wondered what Dark Side of the Moon would sound like if Pink Floyd had written it for NES, instead of for a rock band?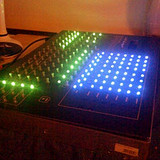 # THE PROTODECK, a midibox-based MIDI controller for Ableton Live 8 with Max For Live.
THE PROTODECK controller features:
87 potentiometers
90 buttons
81 rgb leds
2×20 LCD
2 PIC 18F4620 (20MHz RISC processors)
fully custom rgb led drivers
fully custom firmware
2 MIDI IN/OUT interface
power supply unit included in the box